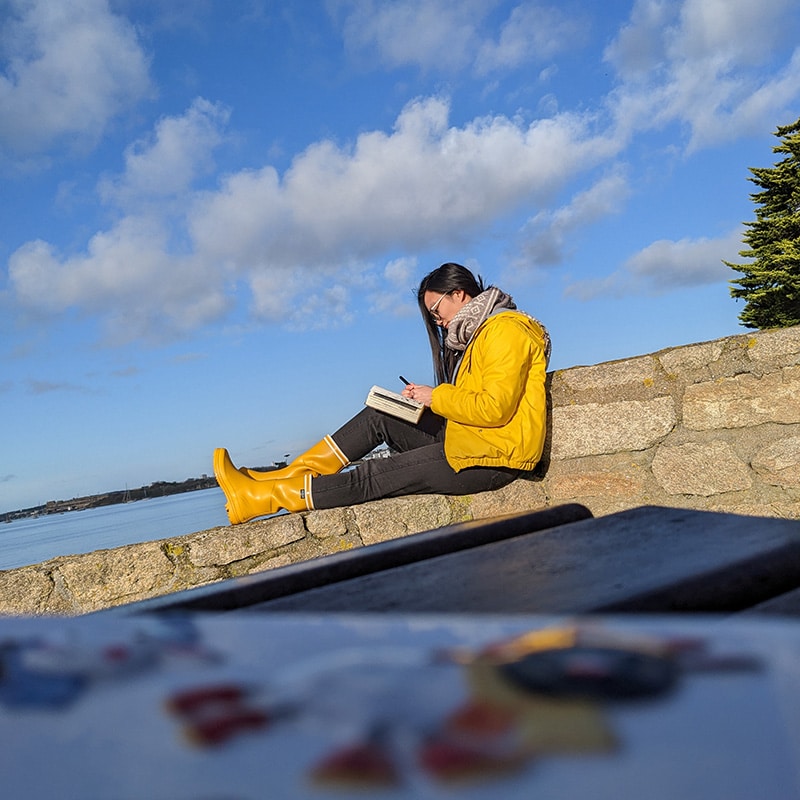 Edited by my beloved friend K.L
In order to move forward in the creative life, retrospection is a key part of the process. And I absolutely must tell you what happened in December 2022.
This article is accompanied by a video (in French with English subtitles).
At the beginning of December 2022, I announced through a video the arrival of my special series: Illustrator: The Profession on my blog. I made the promise to publish five articles in one month, instead of the usual two articles per month.
There was nothing extraordinary about this promise. When I was recording the introduction video, I didn't even consider it a "big" project.
The five articles that were planned came from different interviews. It was by the end of November and I already had all my interviews recorded. Only the articles were not yet written. But since I had already done interviews posts on the blog before, I was used to writing articles by now, and illustration is a subject I mastered, nothing could go wrong, isn't it?
How naive was the An of November 2022…
In the end, this December 2022 turned out to be the most chaotic month since I started as a content creator, but also the most extraordinary ride.
How did this chaos lead to a major turning point in my work? How did a project that was falling behind from the start could end up flowing even in advance? How did this project become the greatest pride in my creative life?
You'll find out everything in this article!
Apprehension: the artificial chaos
Send first, stress afterwards
If this is the first time you came to my blog (if so, welcome!), or if you didn't know about the series Illustrator: The Profession, this introduction video below will let you know just everything you need to know, including why I launched this project.
In short, I was 1000% convinced of the usefulness of these interviews. But for the idea of an interview to come to life, I had to have someone to interview to begin with, hence the frightening task of inviting artists to become my guests.
To remind you, I'm still a "baby" in this business, I'm close to a nobody, a rookie in its earnest sense. I didn't grow up in an artistic environment. I didn't go to art school. I had no contact with professional illustrators, or any professional in the illustration industry for that matter.
If you read the December articles, you might remember that I didn't have any chance to talk to my guests illustrators in real life before the interviews. In other words, our interview was literally our first meeting. This justified just enough why I was very anxious before sending out any invitation.
Watching me spending days hesitating, my childhood friend told me: "You picked the wrong time to be stressed. Send your invitation out! If they refuse, you don't lose anything. If they accept, then it's worth it to start getting stressed!"
Her remark made me laugh so hard that I was able to send 10 invitations in only one hour, hoping to get just as much as three acceptances. Finally, as we saw, I got five "yes", or rather six, because both founders of Kaa Illustration agreed to meet me.
And my luck didn't stop there.
Precious exchanges
Each discussion with my guests was worth 100 motivational seminars!
Oddly enough, I wasn't very stressed during the interviews.
The discussion with Laura Hedon was as relaxed as meeting someone from the same workplace but haven't yet gotten a chance to know anything from each other more than name. Huynh Kim Lien and Phung Nguyen Quang from Kaa Illustration were senpais who shared all their treasure with a newbie. The interview with Lucile Escallier quickly turned into a casual talk about the subjects we are both passionate about. The time spent with Wazza Pink passed as if I was attending a private coaching session. Listening to Violette Imagine talk about her journey was almost like enjoying a comforting yet inspiring podcast that gave me a boost in my own confidence.


I was confident that the content of these future articles would be valuable to the readers.
The original time planned for each interview was 30 minutes. But all of our exchanges lasted more than an hour. We didn't see the time passing until Zoom automatically cut off after 40 minutes because I was using the free version!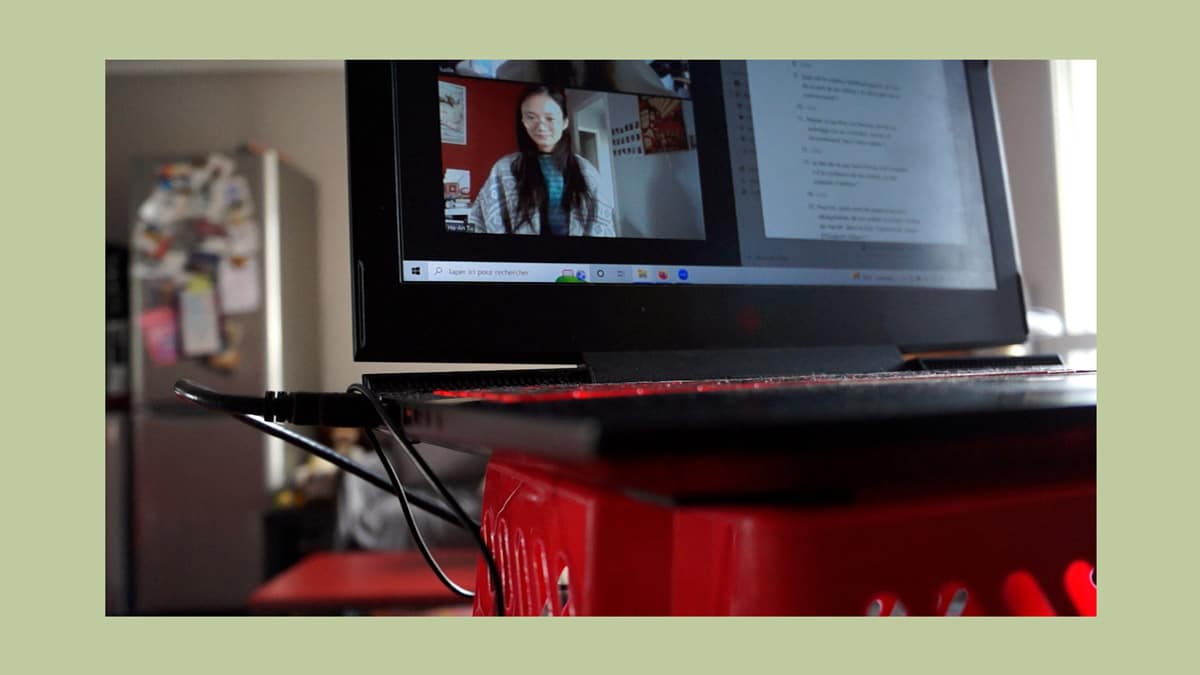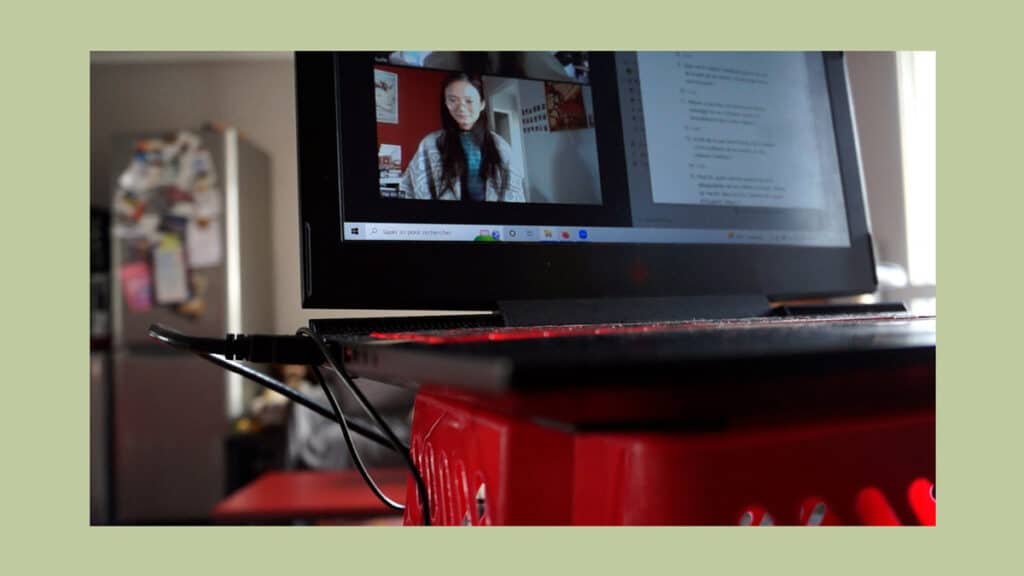 When chaos is on the rise
Despite the length of the interviews, I was willing to do the transcription myself.
And I quickly realized that this was a big mistake.
Even with the help of automatic transcription tools, I could only transcribe 400 words per hour. Each interview that I made contains about 10,000 words. As such, I would need 25 hours to transcribe each interview, which will be as much as 125 hours, an equivalence of a little more than 15 days working 8 hours full-time for the these five articles!
And it was already the end of November! It was painfully obvious that didn't have that much of time.
Since language skills aren't my strong suits, I spent a lot of time checking spelling and grammar. Then I would spend a lot of time rewriting sentences to clarify an idea, only to discover that the clarification was spoken three minutes later in the conversation. Not to mention that my typing speed was extremely slow…
At this stage, I realized that I was clearly not the right person for transcription. That was the moment that I decided it was time for me to delegate.
Back then, and even now, my illustration business was not yet viable. My content creator activity was not bringing in income yet (that's why I used the free version of Zoom that shuts itself off!). But I still tried to hire two freelancers to transcribe the interviews because I trusted that these articles would be useful for our community.
That was how Josephine and Yến joined the project.
Since the project was more complex than I imagined, I engaged all five friends/editors that I have collaborated with since the beginning of the blog. I also had a well laid-out schedule, to ensure the promise that five articles with good quality would be published on time within December.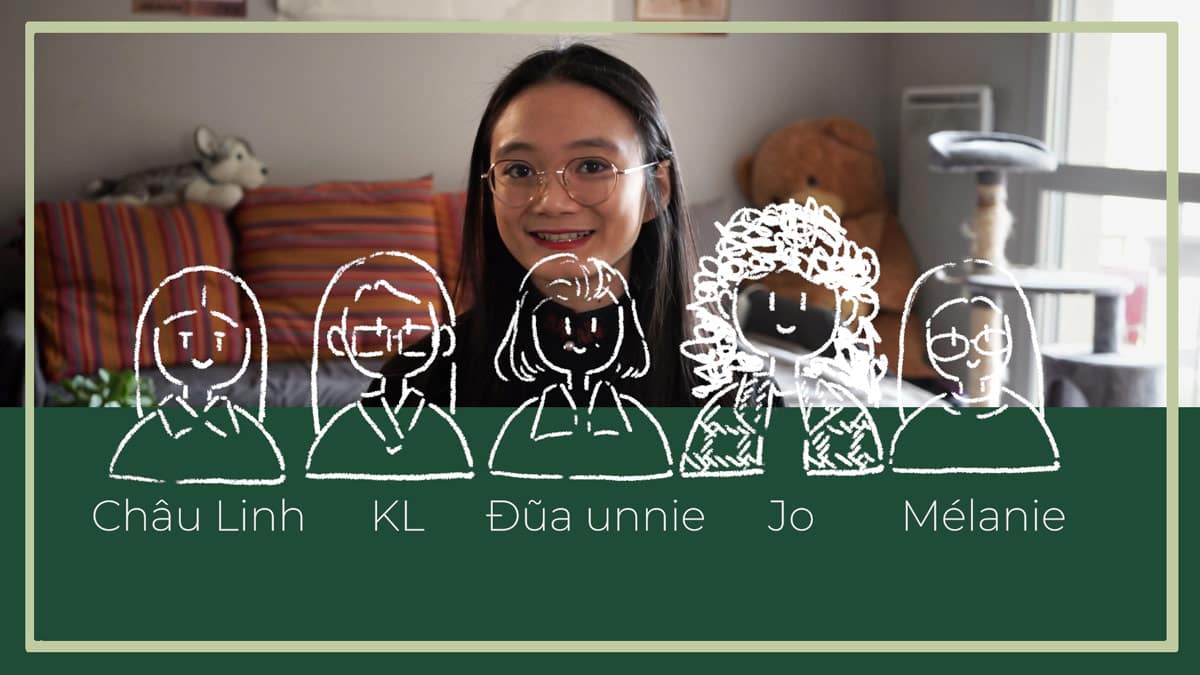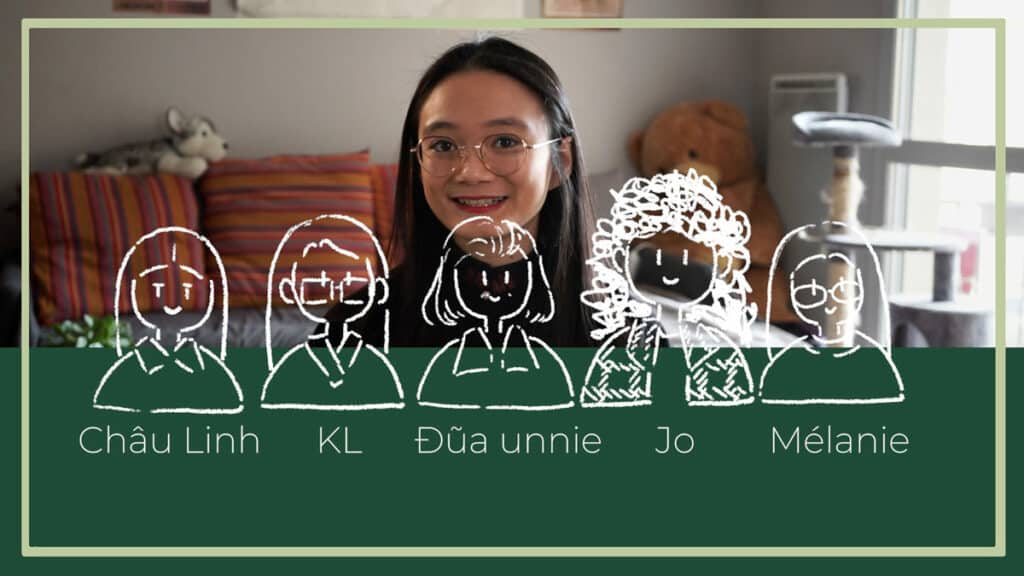 Except, I had forgotten one detail… I still have the full-time job as illustrator next to running this blog.
It's me, the source of chaos
The effort to save a sinking boat
Each article was to be published five days apart. I planned to send the articles in French and English to my editors four days before publication.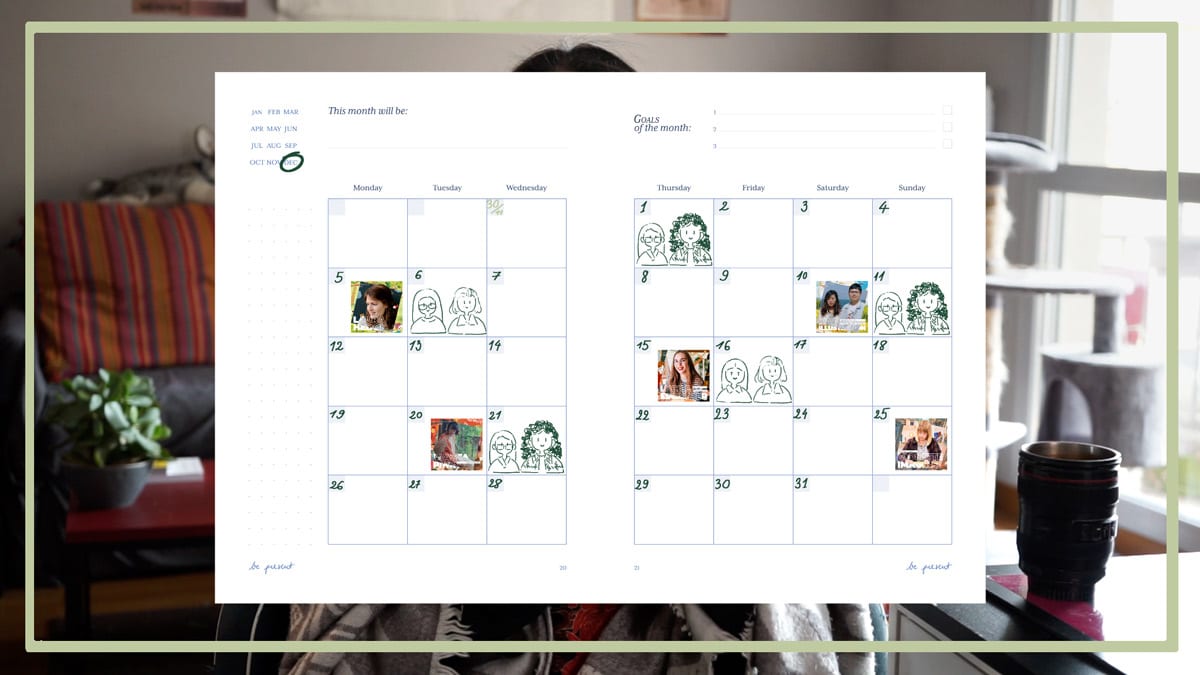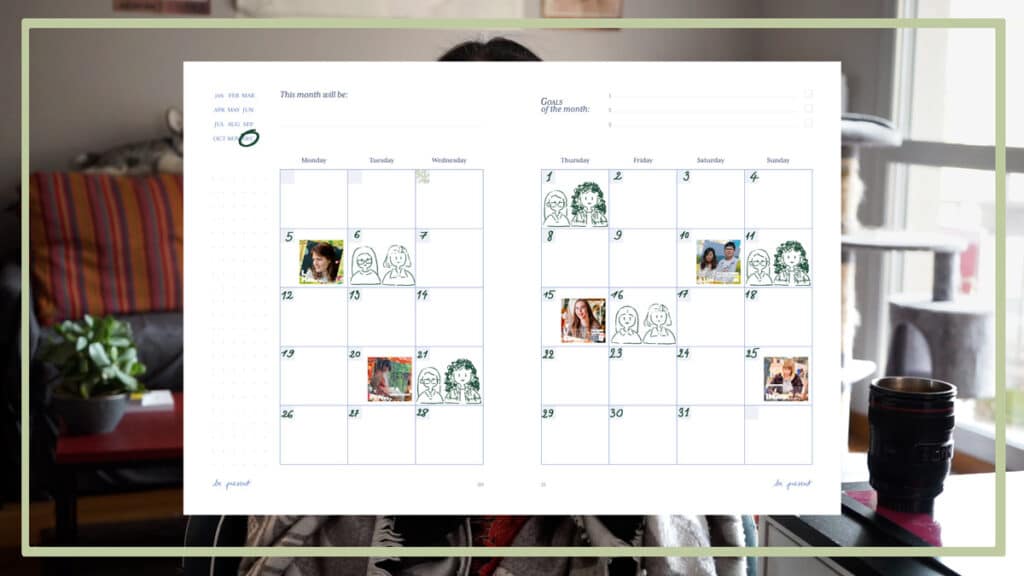 From the very first article, I was falling behind.
With a business trip at the beginning of the month, I sent the first article late to my editors. On December 5th, I was running behind schedule to publish the article before the day ended.
Because of this first delay, I had to finish the second article in one day if I wanted to keep up with the schedule! Since the interview was in Vietnamese and my ability to translate from Vietnamese to French is much less fluent than the other way around, I decided to enlist the help of Yến, the freelancer who did the Vietnamese transcriptions.
It was December 5th, here's what my plan was for the next few days:
December 6th: I had to write the article in Vietnamese, based on Yến's transcription.
December 7th and 8th: Yến would be in charge of the translation into French
December 8th: I corrected the translated version to give the desired tone and rhythm, then, I translated it into English and sent it to the editors for proofreading
December 9th: the editors corrected the text
December 10th: the article could be published


The inevitable chaos
However, even with all the will in the world, it was impossible for me to write an article in one day. I would delay sending it to Yến for one day, then two days, then three days.
On the evening of December 8th, after a technical glitch shut down my computer while the Vietnamese version of my article was still unfinished, I collapsed on the carpet.
Here's my observations:
It was totally too late for this article to be sent for translation, then for proofread;
For the past two weeks, I've been working non-stop from 6:30 AM to 10:30 PM. I became totally absent from my family life and from my couple life. And despite this sacrifice, I still couldn't keep up with the schedule;
I asked my friends for help, and I dragged them into an impossible rush, at the end of the year when it was a fairly pivotal time for everyone;
We were only on the second article, and I was already sinking. And there would be three more…
All this for…
Chaos, seen from another angle
December 8th, 2022, I fell asleep in tears.
But the next day, the sun rised again, and what needed to be done still had to be done.
The night brought advice. I added lines to my statement:
It was the 9th. The publication date was the 10th. Technically, I was still on schedule;
The situation was chaotic, but I loved what I was doing;
I also managed to identify what was taking me so long to write.
With a 10,000 words transcript, I was down to a 6000 words article. And I had been trying for two days to shorten the text without deleting entirely some topics mentioned in the interview or hindering readers' understanding.
I went back to why I first launched this special series. The idea was I wanted to help those who dream of becoming an illustrator, like the An of the past. So, for each passage, I asked myself the question: "Does the young An need to read this?". When the answer was "yes" every time, I validated the length of the article and moved on to the translation.
When chaos is worth the price
On December 10th, the second article was online, as planned.
If you read the articles from the special series, you might come cross my Giveaway. I prepared a form so readers could register their participation. In that form, I added a box for people to send me a message if they wanted to. The link to this form was at the end of each article, which was more than 6000 words long. With such setup, I didn't hold my hope up and thought that there would be at most 10 participants, with as much as five messages.
But at noon on December 10th, when the amount of messages that I received reached 40, I burst into tears on the carpet, once again. These messages were so full of support, gratitude, and above all, so full of personal stories.
I immediately ceased having a complex about the tiny number of comments on my blog. Most of my readers are living a hidden creative dream. It should had been obvious to me that they wouldn't want to leave a public comment to express themselves about a dream that wasn't very much encouraged by their surroundings. My readers are An of the past.
Before that day, I strongly believed in the value of my project. On that day, I knew that this project had provided tangible value to people who needed it. All that chaos was worth the price.
The chaos changed my process
How I went from lone wolf to manager
Even though the messages from my readers gave me incredible sense of comfort, I still needed a way to get myself out of this chaos.
I clearly couldn't keep up with the planned operation with my editors. Either I would have to meet a deadline of four days earlier for each article, which was impossible, considering how the first two were handled; or I would have to impose a deadline three times shorter on my editors to work blog posts that were three times longer than usual.
Normally, I only send an article to an editor once the text is complete and clean. To do so, it would take me several days of work to turn a transcript into a finished article. The more I became tired, the more my process became longer and more delayed. And I made more errors as well.
Seeing how I was killing myself with an army of editors constantly on hold, Josephine, my friend/cousin/transcriber/editor came up with the 3-points solution:
Because it was Joséphine who was in charge of transcribing all the interviews in French, she suggested that she would prepare the two remaining French texts (transforming the spoken language into written language, cutting out any redundant passages…), so that I could focus on brining real added values to the content and structure of the blog post;
Joséphine did not need a large deadline for editing, so she could take care of all necessary correction that would need to be done on texts in French;
Since most of my readers at the time of release were reading in French and Vietnamese, we gave priority to these two languages, I could give my English editors more time, and Josephine could update the proofread version of the articles already published.
And that's how I hired my first editor-in-chief in my content creation career.
Together we go… faster!
While Josephine was working on the transcription of the 3rd article, I was writing the 4th in French.
While I was writing the 3rd article, she was proofreading the 4th.
When I translated the 4th article, she was preparing the 5th.
Sinceit wasn't necessary for me to wait until I have a clean and complete version of the article to send to my editor, I could send her the body of the 5th article to proofread while I wrote the introduction.
The newly formed two-person operation defused the delays like magic.
The 3rd and 4th articles were posted well on time.
The publication of the 5th article was even scheduled automatically one day in advance, just a day before Christmas.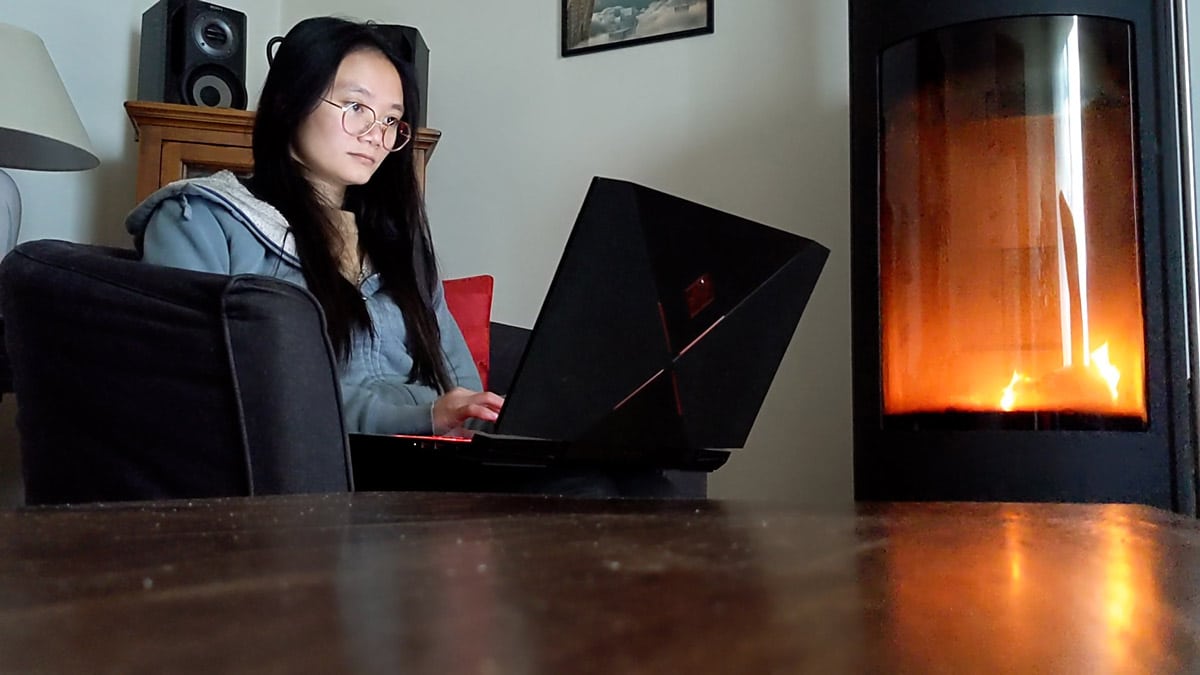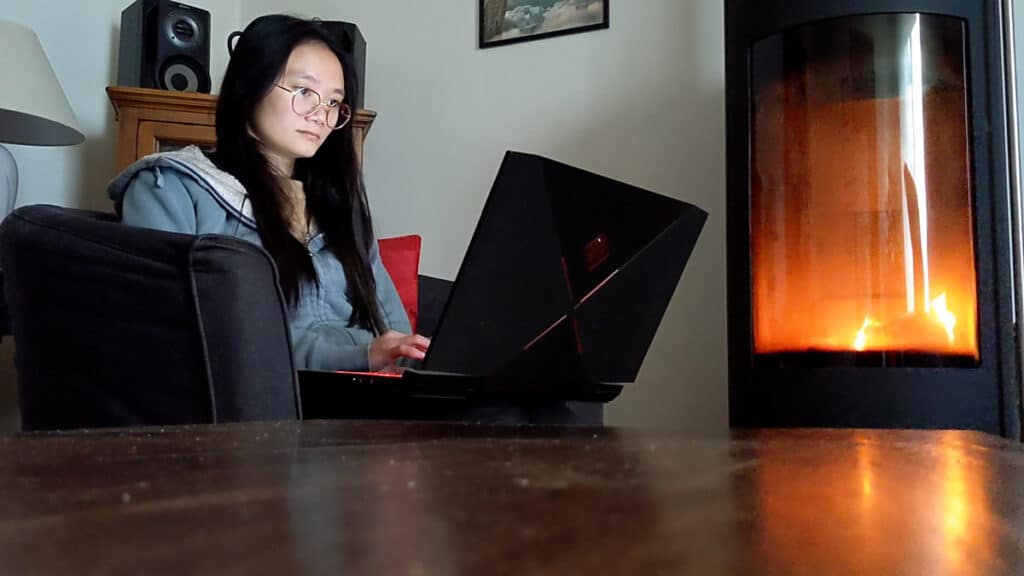 Chaos brings me lessons
Lesson 1: Send first, stress afterwards!
This is my new mantra every time that I have to contact people I don't know. Let's save our stress for later 😉
Lesson 2: Listen to My Community
Before I got the feedback from my readers, I could only guess how my contents could be useful. But thanks to your messages, I got to know more precisely what your concerns are, and how I could help you with future blog posts or videos.
I'm grateful for the messages that you, as my precious readers, sent me through multiple platforms, and I re-read them every time I doubt my legitimacy as a content creator (or blogger/YouTuber, to be precise).
I also really enjoyed very much talking to you while writing three emails that I sent you during the Giveaway period. Therefore, I decided to set up a monthly email system, which, I hope, will be another place for us to hang out with even more proximity and conviviality. At the end of each month, I will share with you a lesson that creative life has taught me, and I will give you an update on my creations of the month.
Here is the link to subscribe to my Creati'letter: subscription link
Speaking of creations and feedback, on top of everything, I would like to try a shorter video format as well. Through these short videos, I hope to share things with you in a more spontaneous manner and get your feedback more often. Please check my Shorts and Reels Réflexions on YouTube and Instagram. I will be greeting you there!
Lesson 3: Who, not how
In the book Who not how, author Dan Sullivan said:
The question to ask is not "How can I do this?" but "Who can do this for me?"
Through this December project, I learned how to delegate and that I'm not essential for every step of the creative process. There are even stages where my involvement would block progress. Outhere, there are people who are good at the things that I struggle with and I should let them help me.
Josephine officially become my right hand, my chief content editor.
It was my pleasure to know that this special series has a good impact on some of my readers. I want to extend this positivity even further if possible. But I can't do it alone. I haven't made any money from content creation yet but I'm serious about this work. It falls on me to make such work sustainable, for me, for my right-hand woman, and for my faithful assistant Romarin.
One last problem
Most of the questions that were asked in the interviews of the series Illustrator: The Profession actually came from the private messages that you sent me. Through the articles that were published on December 2022, I gathered the answers from wonderful experts of this illustration field for you. Even so, some of you still ask me about my answers for those questions. I'm really grateful for the interest that you gave me.
But… I am still a baby in this business! I only legally registered myself as an illustrator last June, I'm not yet to have a client every month, I'm still living on unemployment allowance from Pôle emploi, and I only use the free version of Zoom. 😀
If you really want to read my answer, I hope you could wait until the end of this year so I can get more experiences. I will give you my version of answers to all the questions of Illustrator: The Profession in December 2023, if everything goes well 😉
In the meantime, I'm back to the rhythm of two blog posts per month. See you here, and in the Creati'letter, and also on YouTube and Instagram for Réflexions!
Keep creating!
Tu Ha An
*Please consult the information on Copyright & Intellectual Property before copying or mentioning the content and images of tuhaan.com