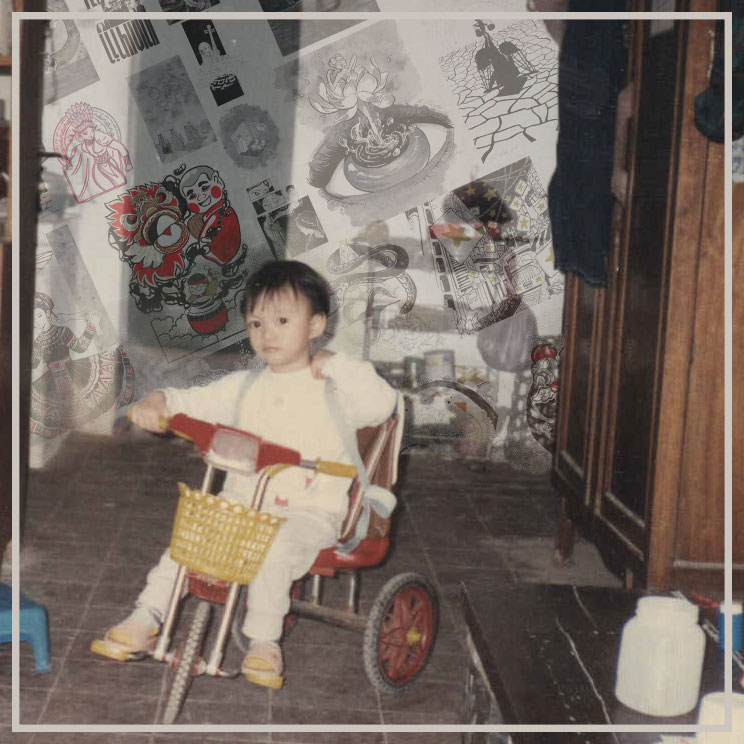 Edited by my childhood friend Nguyen Viet Chau Linh
In 2020, I ended up in the emergency room twice. To be in the hospital in 2020 for something other than COVID-19, isn't that special?
The black sheep and the path to the emergency room
In 2020, a young foreign woman in France, I had a dream life as: Engineering degree, permanent contract, big company, major international group…
Yet every day I woke up with a great emptiness in my chest and frustration in my head.
I was grateful for my wonderful life situation and I told myself every day that I was lucky, that this was the life many people would dream of, that I had to be satisfied, that it was necessary to relativize and to find the small pleasures in the daily life.
Isn't "being positive" THE advice we find in most self-help talks?
Imagine a person having their feet injured by a nice pair of shoes. Every night, she puts balm on her swollen heels, repeating, "It hurts terribly, but these shoes are really beautiful, a lot of people would like to have the same!" This is clearly not positivity but total denial.
My life was perfect, but it wasn't the life I wanted. It may seem cheesy to others and too unrealistic for me to admit that my dream is to become an illustrator.
I am one of the women who grew up in Vietnam in the 90s, at a time when people around kept telling us that creative professions were not real professions, and above all, not a profession for women.
I have been drawing since kindergarten. It's great to have a child who enjoys drawing in the family, until he or she announces his or her intention to make a living from their creations! My school years were therefore years of creations in secret.
I still remember a winter morning when I was 13 (at the time when the internet was not so widespread and the smartphone did not exist yet), a teacher postponed his class, which gave us 45 minutes of free time. I ran to the bookstore at 700 meters from the college. I plunged my head into a drawing book, memorized as many pages as possible and scanned the examples with my eyes. That same evening, I was trying to recreate what I remembered to a homemade sketchbook hidden under a book. And I was eager to return to the bookstore, hoping that the book would still be on the shelves.
I wish I could retell this as if it were a comedy scene about a cunning young girl trying to play tricks on her parents and other adults to practice her hobby. But in my memory, there was just a black sheep lost between prohibitions, judgments, long discussions, misunderstandings and compromises. Creation calmed me down, but the act of drawing was always done in a rush. In literature course, I forced myself to write faster so that a few minutes before the end I could continue a drawing stashed between the sheets of the notebook. Every minute waiting for the bus after school was precious to move forward on a picture. I scratched at every moment possible to draw because maybe that drawing would be confiscated or destroyed seconds after.
Every "misstep" that took me away from the image of a perfect girl, my drawings were always to blame. I remember, as if it was yesterday, the day the house was soaked in my parents' disappointment and my shame because I missed 0.1 point on my school report that semester. When my cousin innocently asked me why I only got the "pretty good" distinction and not the "good" as usual, his mom replied, "Because she's a fool! Obviously, look at how she spent her time making useless drawings! "
None of my arguments were valid, the belief of my relatives remained unchanged: If my job is to draw, my life will inevitably be miserable and I will become a useless person.
Fortunately I had one last lifeline: at that time when Vietnamese parents used to constantly compare their children with others, I found the perfect counterexample: the daughter of a friend of my father, a "model girl", wise and brilliant, who drew and who was at the university of architecture. I called her "chị Hà" (older sister Hà).
Each time she passed by the house, I recharged my confidence, I watered my hopes and the conversations with my parents around my life choice became more peaceful…
Until the day my mother told me that "chị Hà" switched her path after 2 years at Architecture University. Since then, she has been working in the economy sector. To this day, the reason for her choice is still unknown to me. That day I lost my last valid point, but I remembered the relief in my parents' eyes.
I wish I could tell you that I continued to fight, that I had succeeded in convincing family circle, like in movies, and that I became a great artist.
But no, I stopped trying to convince them. Maybe I was weak and coward. It's easy to shout out loud the slogan "Just do it – don't care what other people think". But by dint of hearing years after years from your youngest age that it is not a real job, that it is not for you, that you are not talented enough, that you do not have the "artistic fiber" … you end up questioning yourself.
I decided to live the perfect life, the life that would make my parents proud, because my parents loved me, because parents were always right, and because if I disappoint them it is surely because I do not love them enough. So I made the choice out of love.
I went to France for my university studies. Everything was in order, everything was perfect. I told myself how lucky I was every day. I led my life like a car driving at full speed on a well-defined road, crossing the classic landmarks: diploma, then fixed-term contracts, then permanent contract. One day, this car was sending me the first yellow-flashed warning signal. I started having anxiety attacks which I interpreted as the whims of a complainer who was not grateful for everything she had. Then the warning signals multiplied: nausea, migraines, stomach aches, tendonitis…
The car would have kept running with bright triple red lights and it might hit the following landmarks (like buying real estate, then family, then promotion …) if the March 2020 event had not happened.
No, I am not talking about the first lockdown in France.
It was noon, I was walking out of my office, exhausted and frustrated (as usual). Passing through the gate of the company, I said to myself: "If I could not come back this afternoon, that would be great …" And at that moment, without any symptoms, my knee was no longer tight, I fell to the ground, my back was completely blocked, and the next moment I was transported to the emergency room in a fire engine!
Coincidence pointed its nose with a call from the mother of my cousin, the one who questioned my « pretty good » distinction in college. She wanted me to give her son some career advice as he entered the workforce.
The only thing I thought about was no, I didn't want my cousin to live the life I had. I didn't want him to be frustrated on a daily basis, to use all his energy to put himself in perspective. I didn't want him to turn into a bitter adult with vacant eyes.
That day I realized that I had become a kind of "role model" to whom Vietnamese parents compare their children. Do you know what is hilarious about this story? When I was studying at university, the profession I was doing did not even exist in Vietnam. It is not really a woman's job, and the sector of activity is far from being that of women, especially for the culture I was born into!
I understand that adults quickly forget, and walking in shoes that destroy the feet is not a proof of love.
From the climb to the blog
It still took me a second trip to the emergency room before deciding that there was an urgent need to change my path.
In October 2021, on my 28th birthday, I quit my job with lots of encouragement from my former colleagues for a new adventure in illustration.
The day I shared this news on Instagram, I received a flurry of messages from young people I don't even knew, saying that they were hoping to do the same someday.
"Like you, you did, I tell myself that maybe I can do it too!"
Some people think it's ridiculous to rely on the example of a stranger on the internet to have the courage to take the plunge. But I understand how important a role model is when we live in an environment where beliefs conflict with our desires.
A role model, that's what "chị Hà" was for me. By reading these messages sent by these young strangers, I decide to take over from "chị Hà".
I won't be your ultimate argument that you use to convince your parents, but maybe my entries can help you recharge your energy and your hopes.
Besides drawing which has remained faithful to my side since all this time, during my adolescence and my first years of adulthood, I had the opportunity to exercise several creative activities in a more or less professional way, such as writing, singing, acting, directing short films, organizing shows…
So I want to use all these experiences to build a blog about creativity.
Once again, I wish I could say that this is a beautiful ending to the story of the black sheep that I have told you so far. But this is obviously the start of a long, thorny adventure.
Even though I am quite comfortable starting over just before my 30s, I cannot ignore the doubt mixed with worry among family members and others I care about.
I realized the gap between the general public's vision of creative professions and reality (with the clichés of broken, perched or contemptuous artists who considered themselves better than everyone …).
And it's hard to shatter clichés into one or two sentences in the middle of a discussion.
This blog will therefore be the place where I share the stories of creation, my thoughts on life during the journey to become an illustrator and the life lessons I learn from the creation process. I hope I can help to make people understand that creativity isn't just for elites (or weird people).
Welcome to the adventure!
Keep creating!
Tu Ha An
*Please consult the information on Copyright & Intellectual Property before copying or mentioning the content and images of tuhaan.com