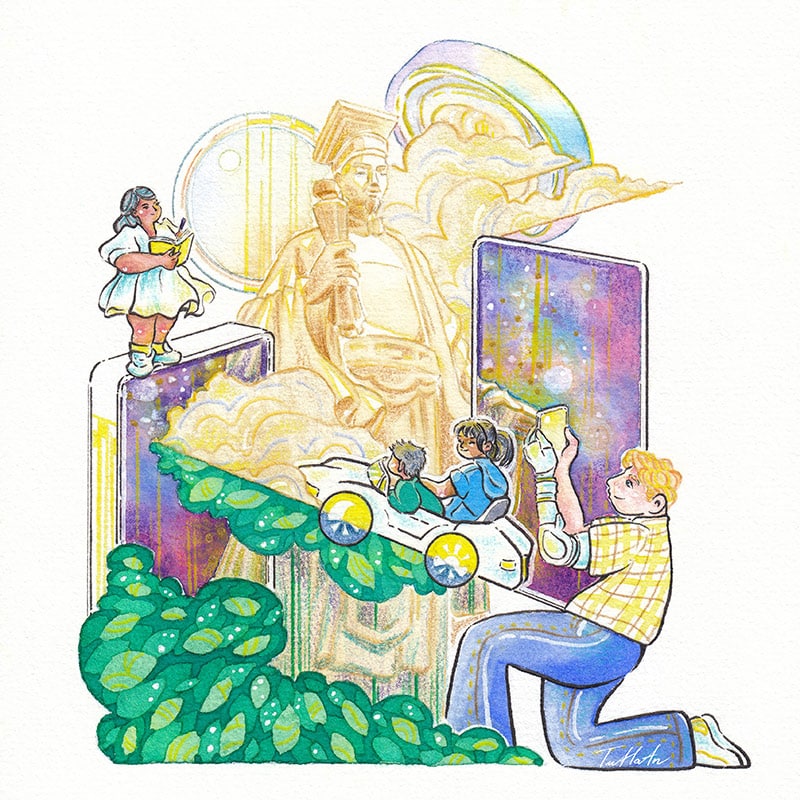 "When I say be creative I don't mean that you should all go and become great painters and great poets. I simply mean let your life be a painting, let your life be a poem."
« One day, when I was passing the King Ly Thai To statue by my house where little kids were driving in mini-cars, I saw a group of tourists huddled together, their faces lit up with joy as they eagerly snapped photos of the children.
Something sparked in me: If I were to be on a trip, I would also find what I was seeing cute, and a bit novel. I would want to capture the moment. But since I was too familiar with my city – the bustling metropolis, I took those little magical moments for granted.
The definition of being "creative" dawned on me at that point: we don't necessarily need to create something no one has ever done before, but rather see those familiar objects or events with the eyes of a child, of a tourist to enjoy the beauty of life, to appreciate it more as each second passes by, it all becomes a memory. »
I didn't understand all those words… until today
These words were written by Thảo Nguyên (A Holistic Educator), a coworker, a friend, and a creator I deeply admire.
These lovely words were originally planned for our Instagram collaboration in… February. But if you're reading this blog post when it first came out, you know I'm 8 months late!
For once, I don't think the delay comes from my tendency to overestimate my productivity.
I think it's the universe that has brought about a succession of events so that the publication has to take place now, in October 2023, on my 30th birthday, when I'm present in Hanoi, my hometown.
Hanoi, I thought I had forgotten…
I was born in Hanoi and lived there all my childhood and teenage years.
Hanoi was all I knew. Hanoi was a given. Hanoi was my norm.
When I was 17, I came to France to study, and I've stayed there ever since. People often asked me if I missed Hanoi, if it wasn't too difficult, if it wasn't too different. And I often lied, so that they would see me as a good girl who hadn't forgotten her roots.
The truth is that, from the moment I arrived in France, I was totally focused on integrating, getting good grades, sorting out administrative problems, and living on my own for the first time, that there was no room to compare my life before and after the age of 17.
A few weeks ago, as I was going through my pile of drawings, I realized that I'd been drawing autumn for several years, with pumpkins, hot chocolate drinks, cinnamon, orange foxes and black cats in witches' hats. These were the symbols that came first in my mind whenever I thought of autumn.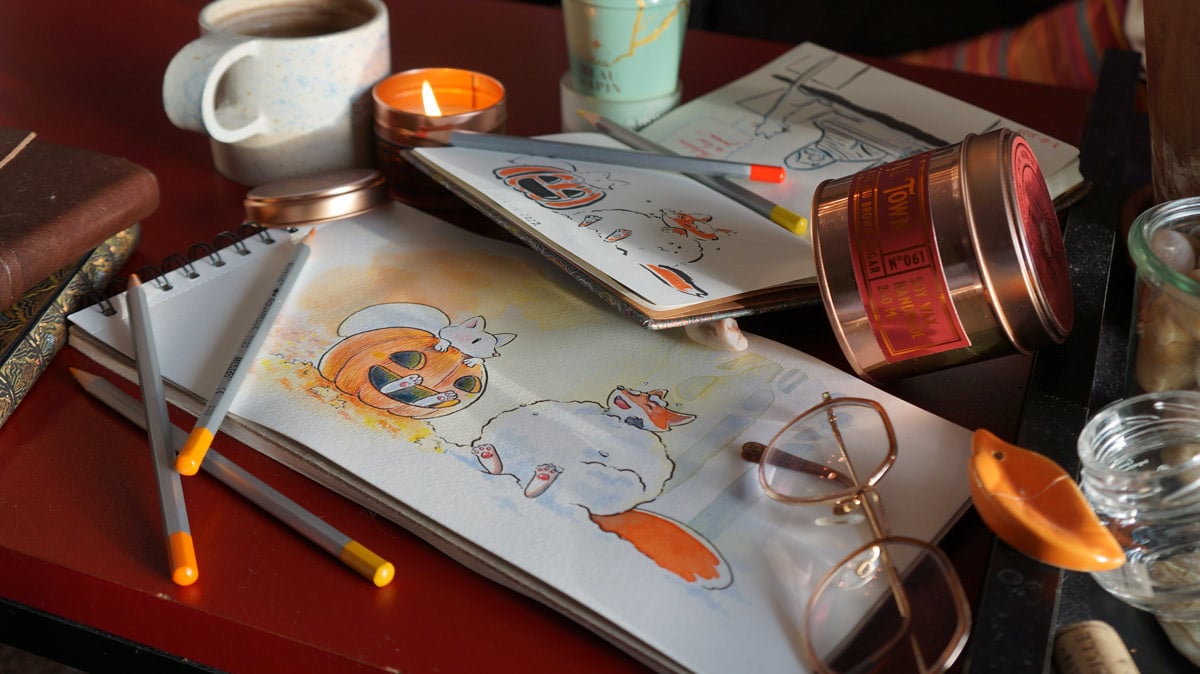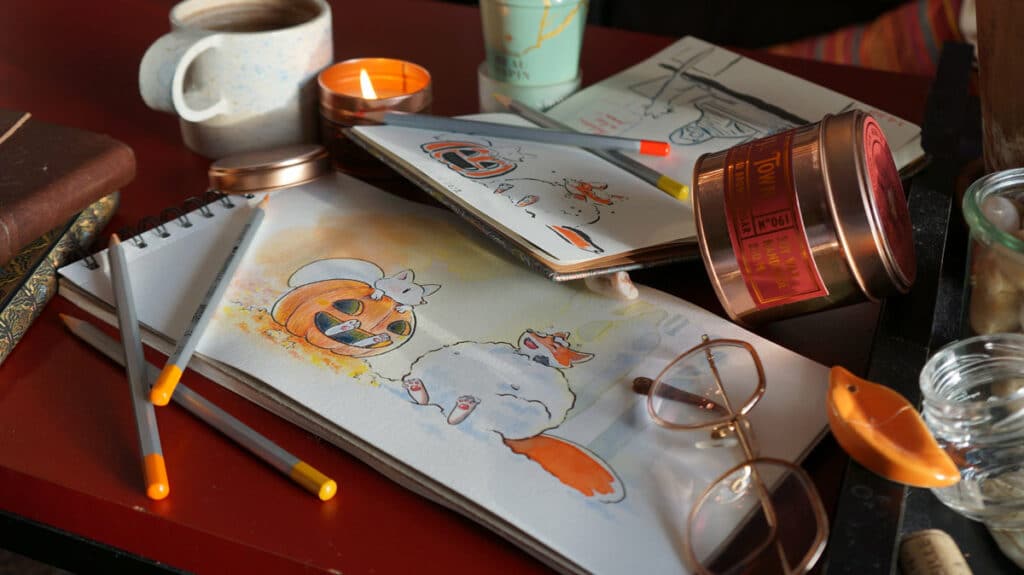 It may sound ordinary. Yes, so ordinary if you've always lived in a Western country. But I realized that neither golden ochre mooncakes, nor white milkwood pine flowers, nor green rice nuggets were on my mind when autumn arrived. Yet this was all I knew, this was my evidence, this was my norm. So my norm had changed. I was ashamed to have forgotten.
Hanoi nourished me, loved me, gave me so much, and I was ungrateful to forget Hanoi. I didn't deserve Hanoi.
But… Hanoi, I finally understand.
And then, 2 days ago, I landed in Hanoi with the goal of living there for 2 months. Hanoi and I found each other again after 12 years (apart from the 2 times I went back for vacations).
And, by rereading Thảo's words in preparation for our Instagram post, right away I understood how my norm changed so drastically:
From the moment I arrived in Lorient, in France, Trois-Rivières, in Canada, or any other city over the past 12 years, I would try to retain as much as possible of the daily practices of each region because, I was trying to fit in. But above all, because I didn't know how long I'd be able to stay. I had to discover as much as possible, keep as many memories as possible and enjoy every moment.
Whereas when I was living in Hanoi, I never thought that one day I'd leave this city. I never made an effort to keep Hanoi in my mind.
Hanoi, allow me to love you differently.
Hanoi was my childhood and adolescence. My creativity was born in Hanoi. My most lasting friendships began in Hanoi. My first feelings of love sprouted in Hanoi.
But the root of my insecurities was also planted in Hanoi. I could never fully be myself while living in Hanoi. I dragged frustration with me down every street I passed in Hanoi.
Today is my 30th birthday.
I'm no longer the young student who wanted to fit in at all costs and was looking for every way to be accepted by her peers in a Western country.
And Hanoi was no longer my city. I don't know how many days I'll spend in Hanoi before the end of my life.
In trying to apply Thảo's technique, to observe this city as if it were a discovery, I saw specificities instead of simple advantages or disadvantages.
But I've also realized that even if Hanoi's symbols no longer come first in my mind, the Hanoi accent can still be heard in my voice. I may not be able to explain to my Western friends all the differences between Hanoi and their city, but my Hanoian demeanor remains present in my every gesture. I don't directly draw Hanoi's autumn scenes with all their specificities, but Hanoi resides in each of my brushstrokes.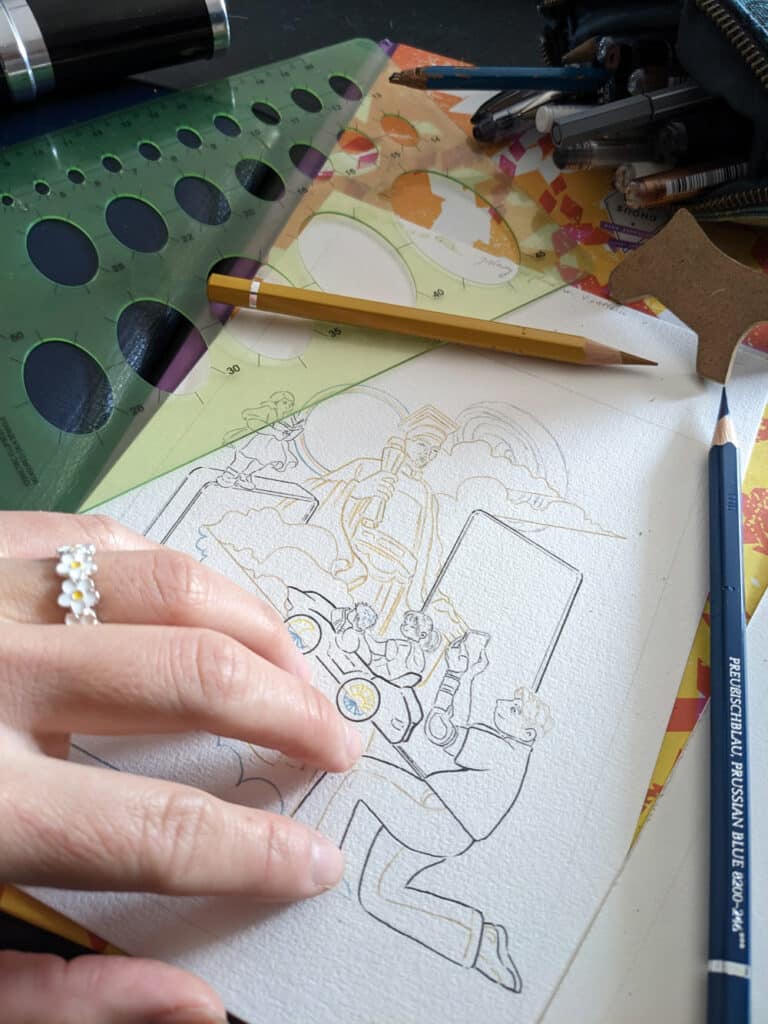 So, perhaps it's time for me to get to know Hanoi differently, to appease my Hanoi past, and to integrate Hanoi into my life in a different way.
Hanoi, allow me to love you again.
Keep creating!
Tu Ha An
*Please consult the information on Copyright & Intellectual Property before copying or mentioning the content and images of tuhaan.com