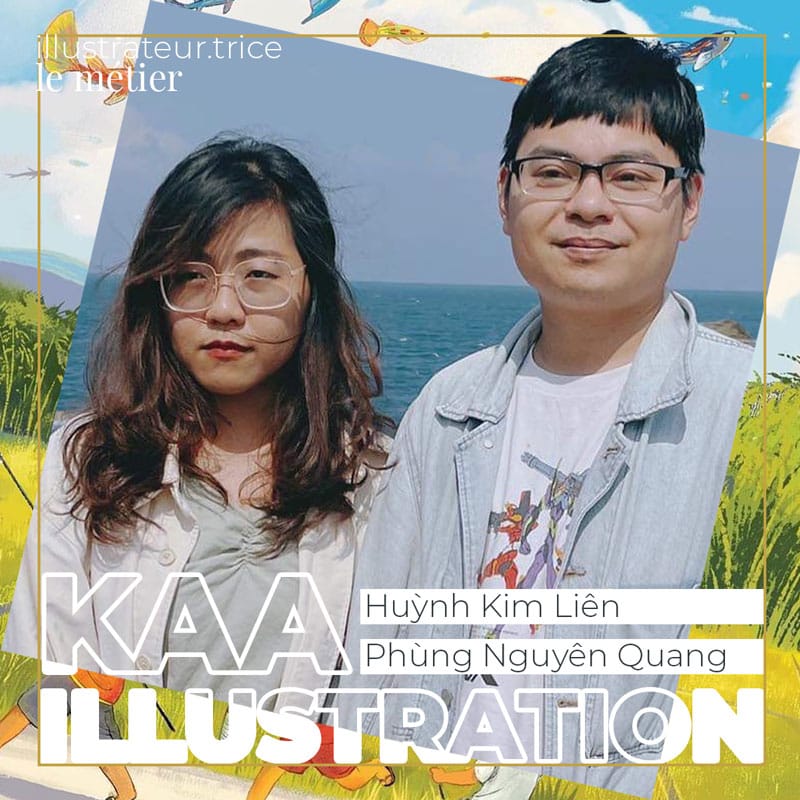 Edited by Mélanie Bouleau, world's best co-worker ever
This article is part of the special series "Illustrator: the profession", where you will find the answers to the questions you most frequently ask me about my occupation.
For this special occasion, I invited some talented colleagues to give us their realistic, detailed, and sincere points of view on the trade of illustrator.
Huỳnh Kim Liên and Phùng Nguyên Quang from Kaa Illustration, illustrators, authors, picture book creators
Liên and Quang are a Vietnamese couple, living and working in Vietnam. Under the pseudonym Kaa Illustration, they create stories filled with poetry, fine strokes, and sparkling colors.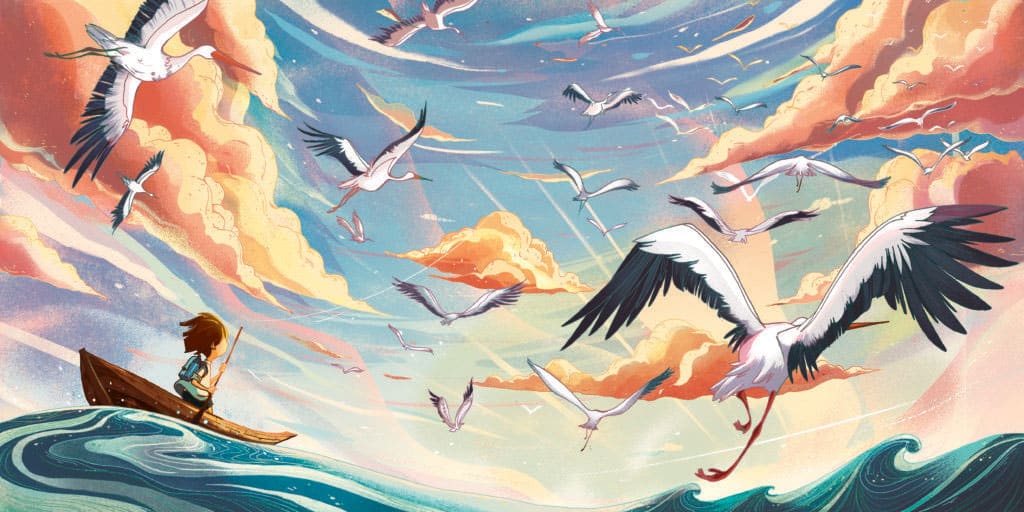 I still remember admiring Kaa's illustrations on their Facebook page duringlunch break, back when I was an intern in a transportation company. I also remember one foggy day, when I stared at a book illustrated by Kaa, displayed in the window of a bookstore in the downtown Dijon (France). I could not stop my hand from shaking when I video called them.
Never would have I ever imagined how the conversation actually went. Instead of talking for 30 minutes, we were joking for an hour and a half. Instead of giving an interview, they were like two masters happily sharing their gold with their little newbie.
To make the article easier to read, answers when one finishes the other's sentence are combined into one under the name Kaa. For the rest, I keep each one's answer separate.
I tried to convey, as accurately as possible, the relaxed atmosphere of that day, when Liên and Quang share anecdotes while drawing, when they show me their desks side by side, or when they take me on a (virtual) tour of their library.
I hope you will feel the simplicity in Liên and Quang's words, while noticing the respect they have for their trade as illustrators. This conversation is a treasure, which I am sure you will enjoy discovering in its entirety.
Meet the artists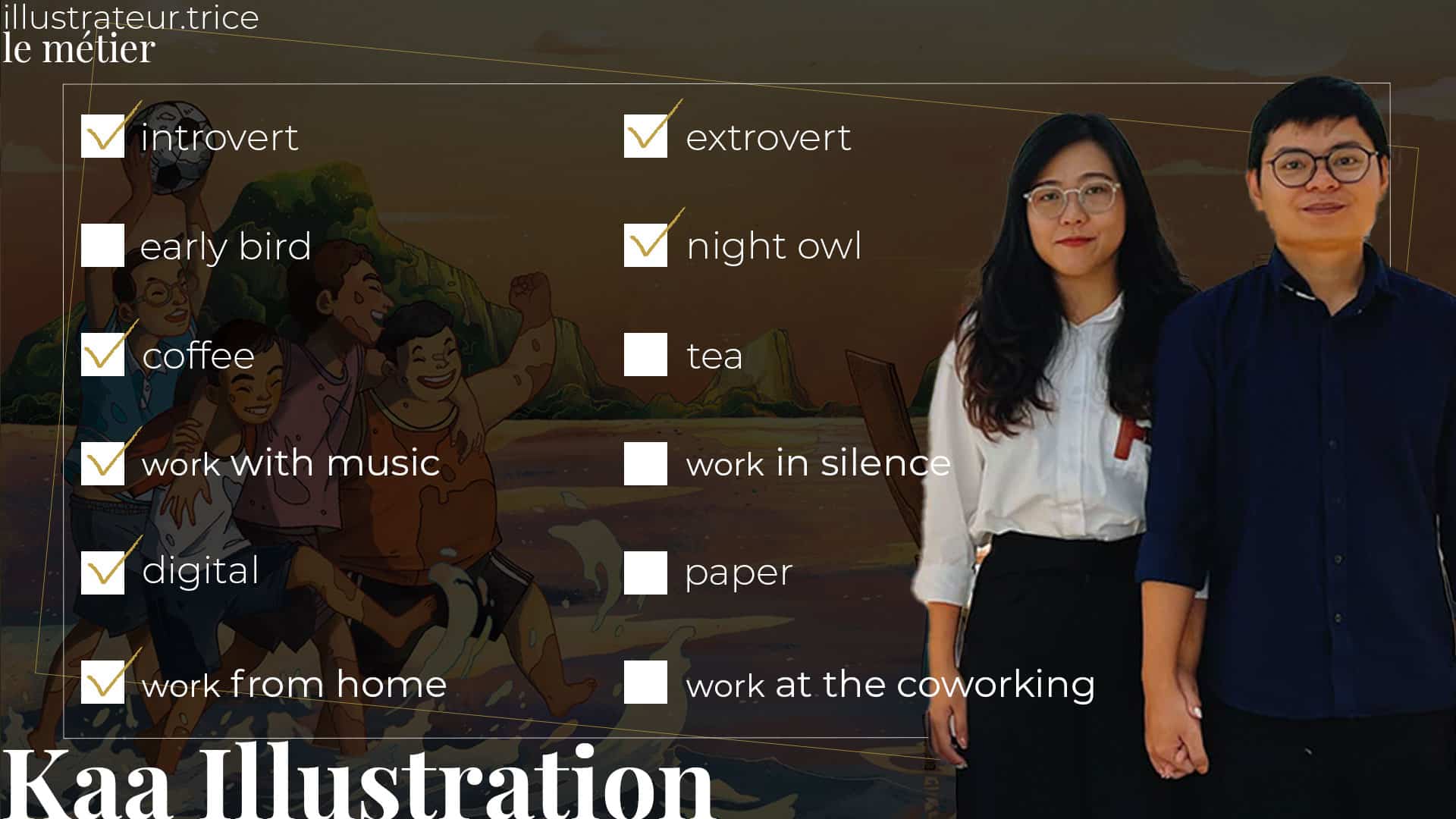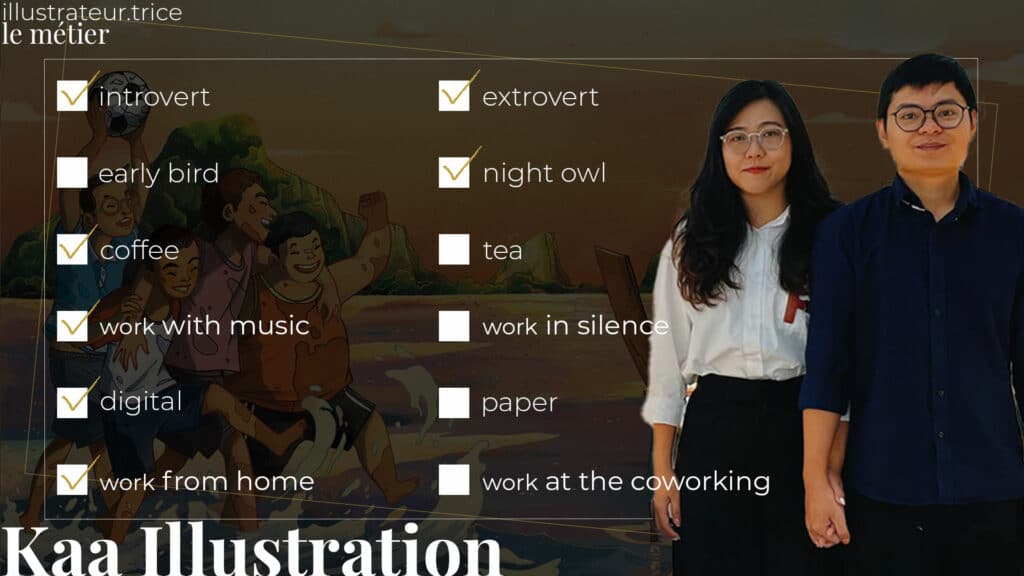 Table of contents
Since the conversation is long (and I do not want to cut anything out of the treasure), here is the table of contents, to to help with your reading, rereading, and future research:
Illustration for children: the grown-ups' playground
The daily life of two children's book illustrators
Từ Hà An (An): How would you sum up your daily life?
Huỳnh Kim Liên (Liên): Our work consists solely of illustrating picture books for children.
Phùng Nguyên Quang (Quang): I am responsible for answering the emails from the clients requesting collaboration. Then we quote a price. If the client agrees, we discuss the projected timeline.
Regarding the work process, we create several sketch options for the client. The client chooses the option that suits them best. They can suggest modifications if needed. Once the edited version has been approved, we move on to inking, to transform the rough sketch into a detailed one. Then, we digitize these sketches to color them on the computer. Often, several changes will be required and made to the colored version. Once the last version is complete, we can consider the job done
(note: "the job" here means "the client's project". The term "job" is the official term used in the Vietnamese illustration community).
Liên: For some projects, Quang sketches and I color. For other projects, we reverse the roles, to shake things up a little. Our creation processes are quite different, so sometimes, one of us is the sole contributor to a book.
Usually, we illustrate 4 to 5 books at the same time. We start on one while waiting for the clients to come back on the others.
Basically, our days revolve around the following tasks: drawing, sending the drawings and answering emails. When we have time, Quang updates our website, and I update our Facebook page.
Otherwise, the rest of our time is spent with our 3 cats, and hanging out on Facebook.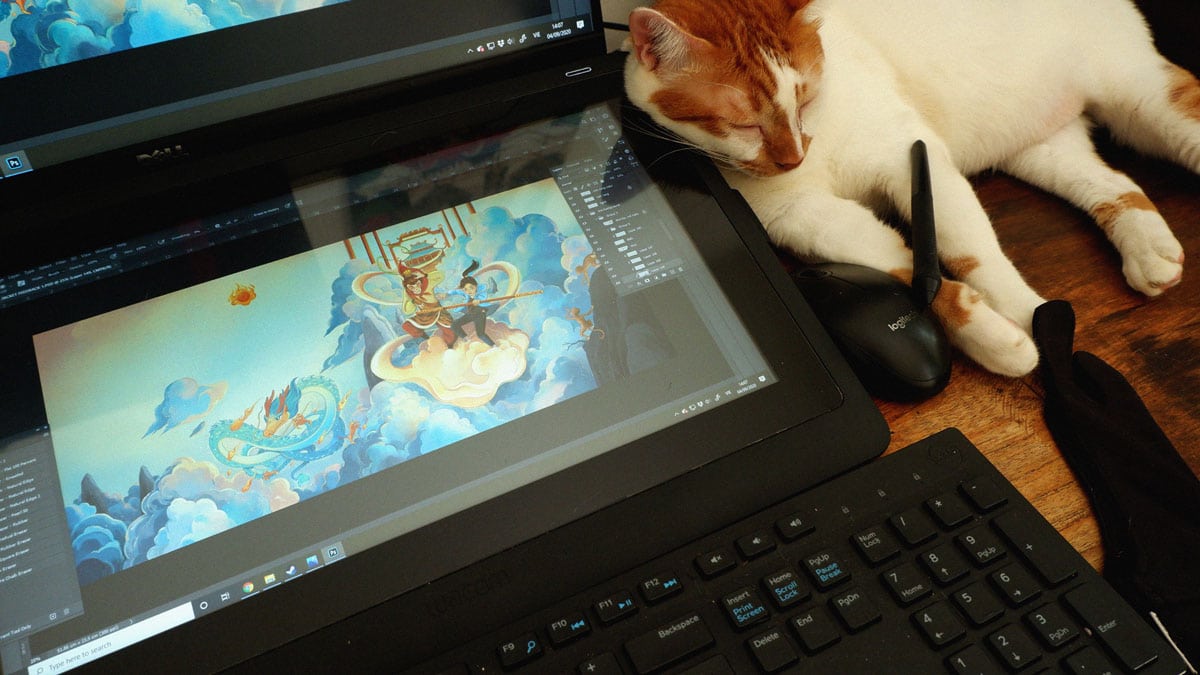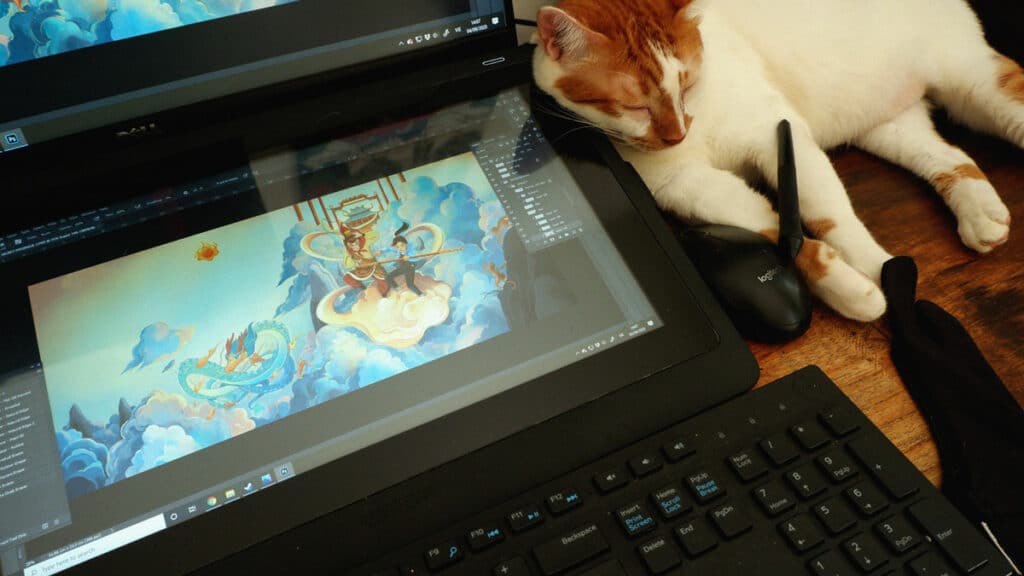 Having an agency: a career-boosting move?
Liên: What about you? What kind of illustration do you do? On your website, you say that you used to work in the railway sector, right?
An: Yes, I used to work in railway safety. Now I am a full-time illustrator. I hope to have my first children's book illustration project soon.
In the meantime, I draw for magazines, or for brand creators, like designing an illustrated logo, or drawing a banner for their social networks. This month, I only have private clients asking me to draw their families or their pets.
On the side, I am doing graphic design for an educational brand. Basically, I take on any project that generates income.
Liên: In the beginning, I was juggling several types of jobs too. Do you have an agency, or do you manage everything by yourself?
An: I don't have an agency yet. I don't feel experienced enough to apply to an agency yet. I think I have to have some added value for the agency to be willing to take me on.
Do you find that having an agency brings noticeable improvement to your work?
Kaa: For us, yes, absolutely. But it depends on each illustrator, and it also depends on the agency. For some of our friends, working with an agency is even less efficient than working alone, because their agency is not proactive enough.
Liên: But your reasoning is good… If your portfolio isn't strong enough yet, but you're already stuck with an agency, you'll lose a lot of money in commissions to the agency. Plus, if you always have to go through the agency to get a job, you won't have any regular clients of your own.
Reduce the number of tasks we don't like, to devote time to the tasks we do like
Liên: It's only been 3 years since we have had an agency. Before that, we already had a regular clientele in France, the United States and the United Kingdom. We only ask for help from our agency for administrative tasks, to set up the schedule or to remind the clients to give feedback on ongoing projects…
But we still need to know how to do all these tasks by ourselves, to gather experience. Before, at times, we felt like our full-time job was answering emails, and drawing just a part-time job on the side.
An: Oh… that's the exact description of my life right now…
Quang: I remember the time I had to prove that we were Vietnamese and lived in Vietnam, for tax purposes. I had to go to the district administrative office to get a residence certificate, then translate it into English by a certified translator, and send it to France…
It was hard to manage contracts, taxes, or administrative paperwork without an agency.
Besides, in most cases, it is easier and more professional to let the agency negotiate the contracts with the clients than to go there ourselves.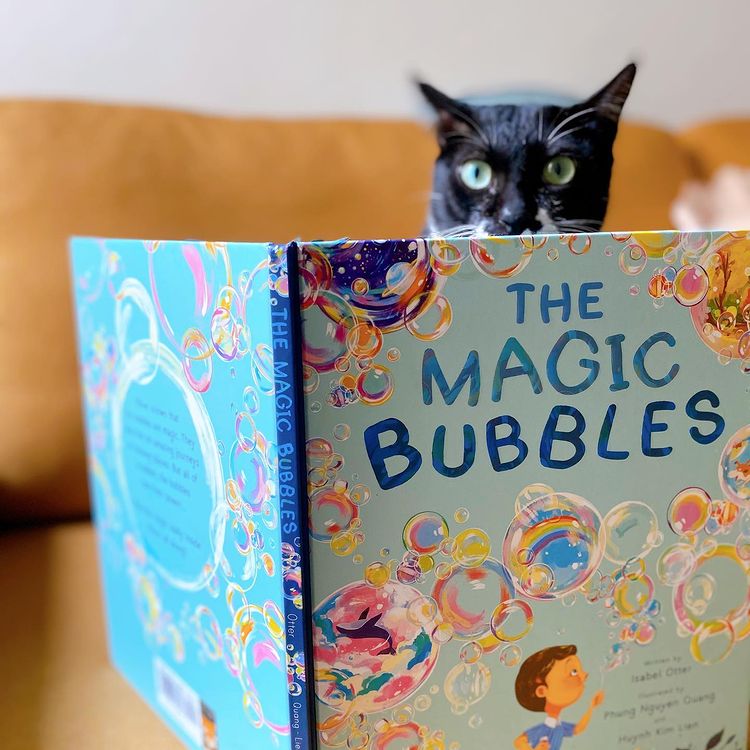 Drawing is enough
Simply, because we wanted to draw
An: In an interview, you mentioned that your families did not support your choice to become an illustrator. What motivated you to pursure this career?
Quang: The truth is, my family wasn't that radical. My relatives never cut me out of the family tree just because I decided to become an illustrator.
At that time, I had just graduated from the University of Architecture, with a degree in urban planning. My family thought I would spend one or two years maximum doodling here and there around, and then sooner or later I would get back on the "straight path".
At that time, I had no money and no connections. Jobs were so rare. Liên and I struggled a lot. But at that time, I just thought that, no matter what, I didn't want to stop doing this work. I wanted to keep drawing. I could quit anything, except drawing. As long as I earned enough to eat three meals every day, that would be enough for me.
Liên: At that time, even we didn't know if there was a future for us. The occupation of illustrator was not yet developed. No one was able to get a sustainable income from this occupation.
Quang: We can only admire famous artists like Phan Vũ Linh, or Khoa Lê from afar.
Now that Phan Vũ Linh has opened his studio and launched his dinosaur figure project, everyone can see that illustration is an industry with a lot of potential. But when we started, we didn't have this kind of success story to judge the viability of our career.
The spark to light the torch
An: For you, what is the most important thing to start in the business?
Quang: For me, it was getting the first job.
Fortunately, at that time, I was introduced to a job, to draw mascots, for a small advertising agency. This job required no experience.
But this job was so important. Without it, I might never have gotten into illustration.
An: Was it through this job that you learned how an illustration project works?
Quang: No, no, this job was only to draw a father and a son, who were talking together standing up, with a certain facial expression.
I was still a student, so nobody expected an epic illustration from me. But at least I had a job to do.
I consider this job as the motivation to get started. It was the first brick on which I stood, convincing myself that… OK, I could make money with my illustration.
The job calls the job
An: Before having an agency, did you contact the client via Behance or directly by e-mail?
Liên: In the early days, when my drawing skills weren't even up to par, I took a lot of initiative to find jobs.
We even worked full time for a while in the beginning. Quang worked for Xilam. I applied to game companies and studios.
Then we went freelance. But we kept in touch with our former bosses and clients from our former companies. Through word of mouth, we got jobs. We took all the jobs that we were offered.
We did this for three years. Our portfolios were starting to fill up. I was starting to post my projects on Instagram. Clients would contact us after seeing pictures of the jobs we did. The job calls the job.
We didn't have the opportunity to illustrate an entire book at first. We were only entrusted with a small part of a book. We also had private clients who just wanted a personal book, for their children. We accepted everything.
Quang: A client who sees a photo of your single illustration won't necessarily make contact with you. But once they see a book you've illustrated, they'll have proof that you have experience. Then, past clients will come back if you do a good job.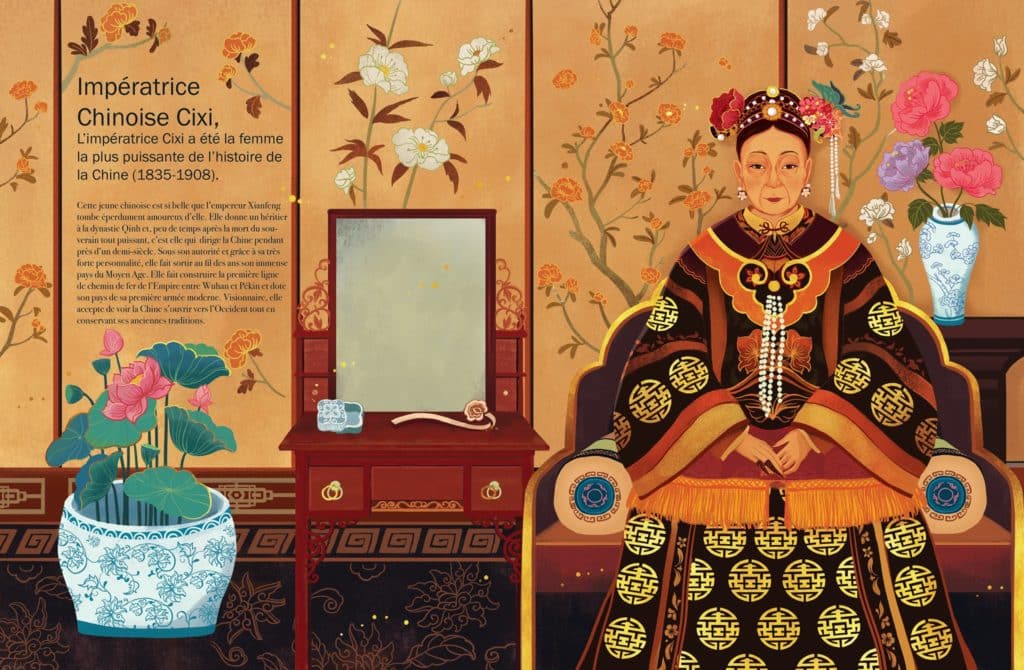 Persevering on the long road
Getting through the rainy days…
An: How long did it take from the time you officially started your activity to the time you consider yourself to be earning a living?
Quang: In 2010, I started to take on jobs alongside my university studies. Then, around 2012, 2013, I was a full-time employee. At the end of 2014, beginning of 2015, I became freelance. We've remained freelance ever since.
In the beginning, there were months when we didn't make any money…
Liên: It's true that at that time, we drew cards, we sold postcards, T-shirts, decorations… We went to trade fairs, we displayed our creations on Etsy…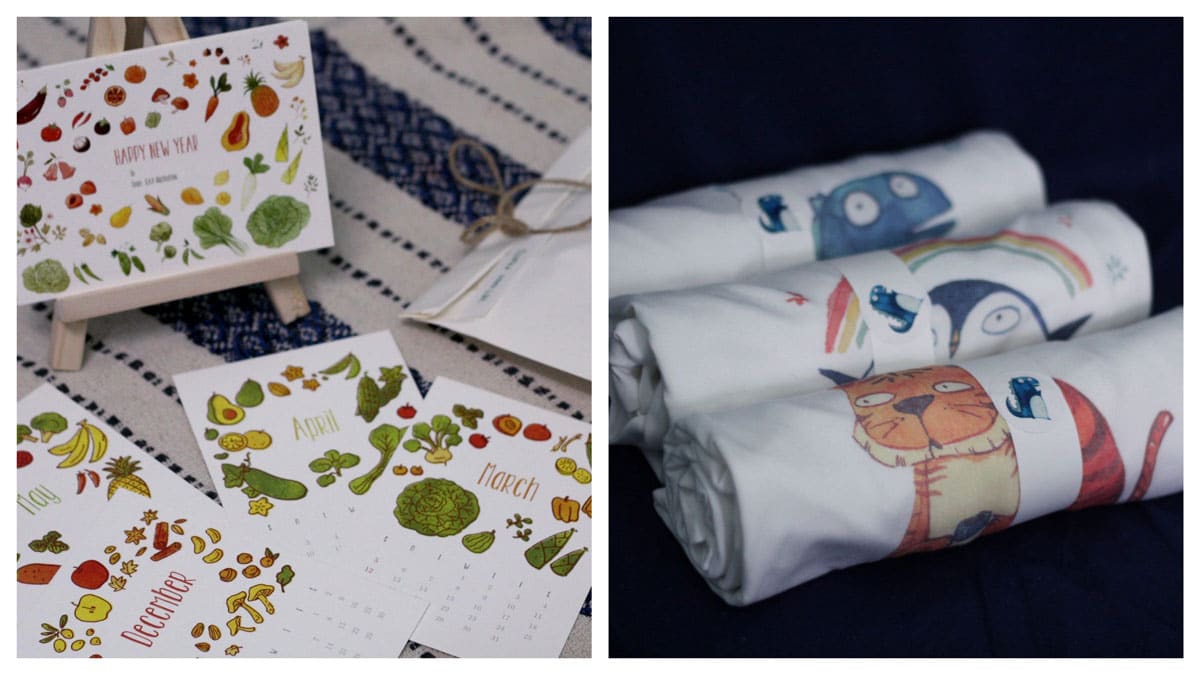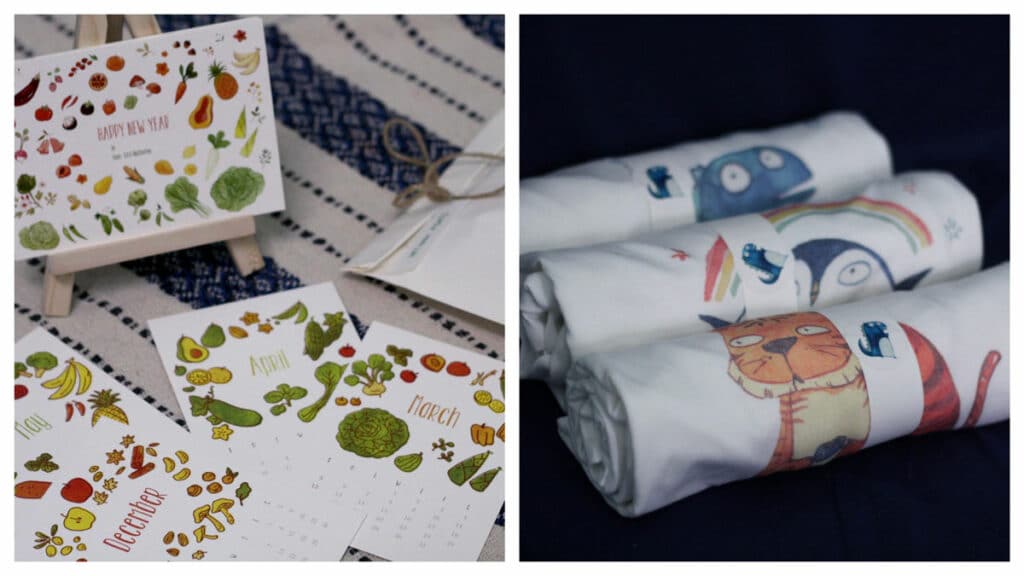 As a result, we have been in the trade for 12 years. But it's only been 4 years that we've considered our work to be steady. It's quite a long time, isn't it?
An: So perseverance and determination are paramount to follow this path, right?
Quang: Absolutely. There will be times when this path leads us to the bottom of a hole, where I end up thinking I'd better do something else, or look for a full-time job…
Liên: … But as soon as it goes down, there is often, by pure chance, another opportunity that helps us get back up. Little by little, everything will gets better.
I also have a conviction that, as long as I don't set my expectations too high, as long as I still know how to draw, and as long as people still offer me to draw, it will be okay. No need to think further. Well, really, of course I do overthink, but every time I force myself to simplify my thoughts.
… then comes the sunny day
An: Among your activities, which one brings you the most income, and which one brings you the most happiness? Do your main source of income and happiness come from the same activity?
Kaa: Indeed, it is the same. Because today, we only illustrate children's books.
In the past, we couldn't earn a living by only illustrating books. Fortunately, we had jobs in advertising in Vietnam.
But 3 years ago exactly, I had the impression that illustrating for advertisement had worn us out.
Liên: Gradually, our income from book illustration jobs increased, royalties also increased, thanks to book sales. We also received the commissions from books finished years earlier.
Once we had enough income from children's books to live on, we turned down all advertising jobs in advertising. We now only do children's books, but our wages are higher than when we did illustrations for advertising.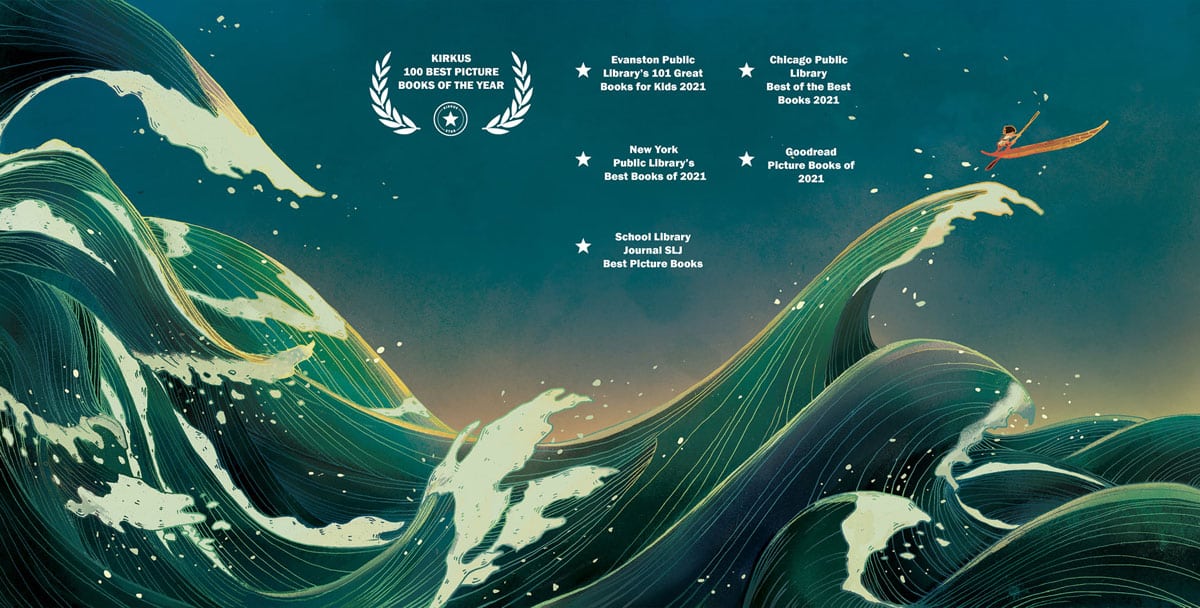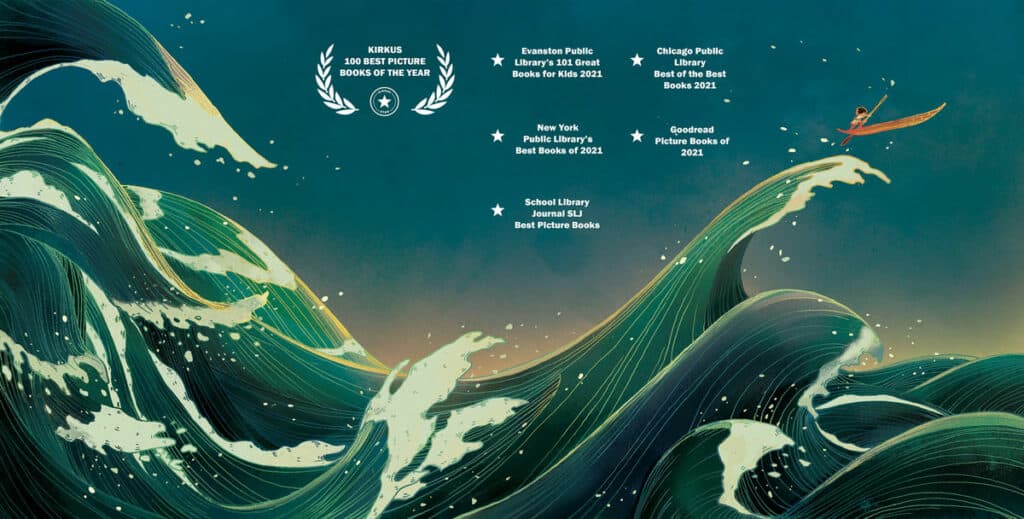 Choose passion or choose stability?
An: I am convinced that doing what we love with all our heart will make us feel fulfilled and completely happy.
Nevertheless, people often have to choose between doing what they love, or doing what gives them stability…
Quang: The easiest way is to lower our expectations. We're already lucky to do what we love, and to make a living out of it. We shouldn't expect that our trade will become a great pride.
If you choose to draw, just be an illustrator. You won't be able to meet all the other standards of society.
Liên: We are both easily happy. We don't need or want to buy a house or a car, or to get famous.
Quang: "Well, as long as they both have a roof over their heads and 3 meals a day, it's okay." Our families are not proud of our work.
But we don't have any expectations, as long as we have fun drawing, we're OK.
Vietnamese details in books displayed in the windows of bookstores around the world
An: I have noticed that you incorporate Vietnamese cultural touches in your works and books.
It seems that the international editors appreciates and demands the presence of cultural, regional or gender diversity, etc.
Do you feel that being Asian is an advantage, which reassures your clients, when they entrust you with multicultural content?
Liên: We like to represent Vietnamese culture, in general. We like drawing Southeast Asia in general, but not all of Asia. For example, we like to look at paintings and illustrations about China and Japan, but we don't like to draw about these countries as much.
When we have the opportunity to draw themes related to Southeast Asian culture, we are happy.
I have never asked myself if being Asian is an advantage or not. Actually, there are many Asian illustrators.
Quang: Recently, you have received many manuscripts written by overseas Vietnamese. I think it's a good thing, because they prefer illustrators who know Vietnamese culture to draw Vietnam. So maybe that's an advantage for us.
Liên: But it also depends on whether our style suits the client's requirements or not.
I think I simply feel closer to the characters when I draw books about Asia. Sometimes the description of the project is enough to move me.
Quang: Or sometimes the image creates itself in my mind, I don't even need to consult references or watch movies.
For example, for books about Europe with European characters, you'd have to do research to understand what era, what year these characters lived, what clothes they wore. But when we draw about Asians, or Vietnamese, just by reading the text, we can already visualize what region the character comes from, and what the landscape looks like.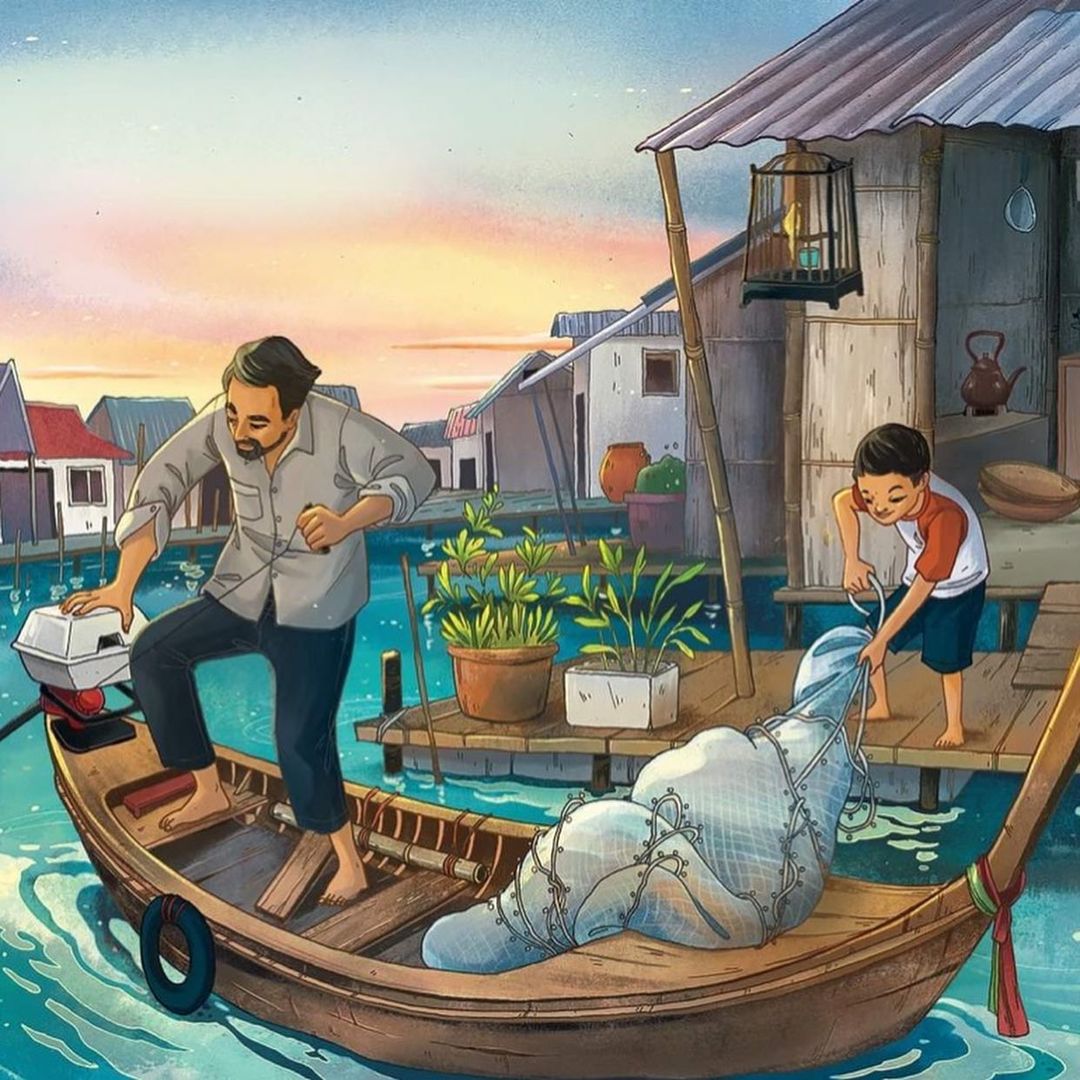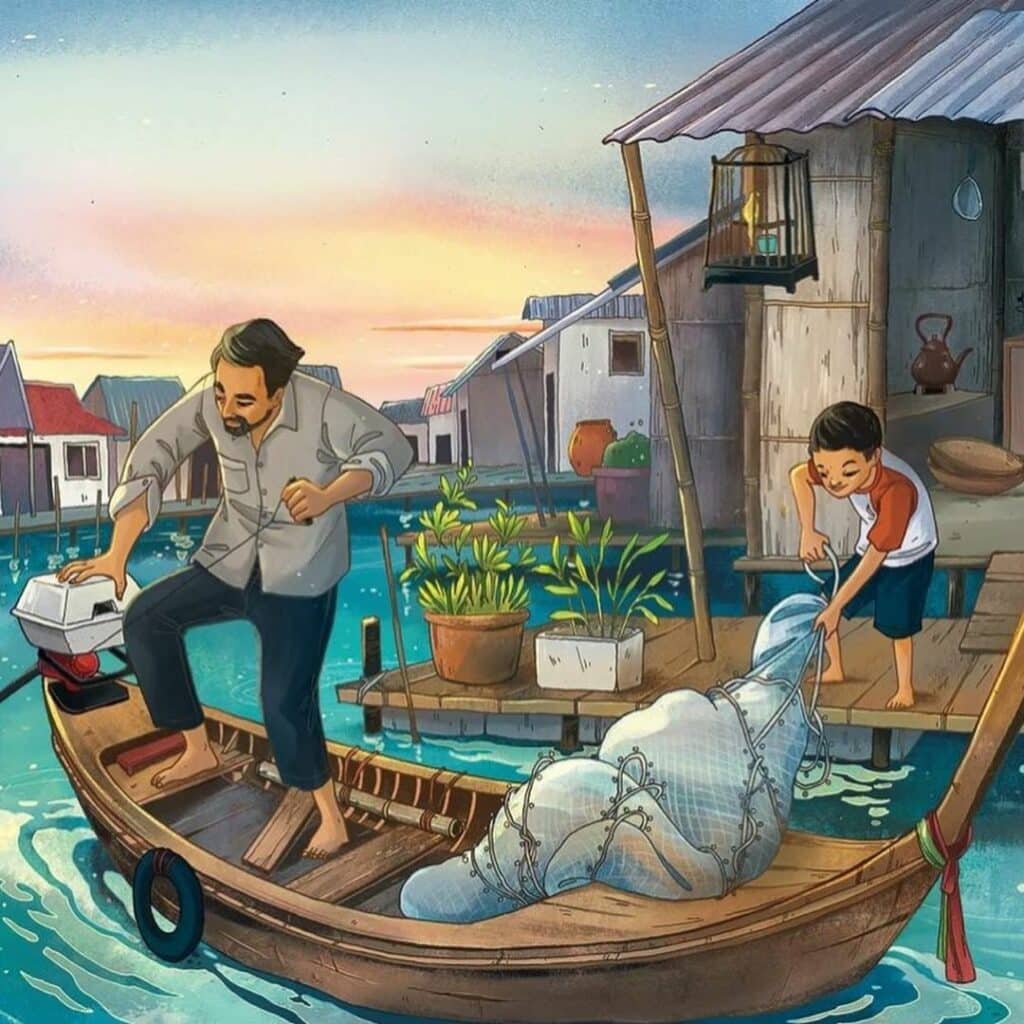 Academic achievement in Art: the advantage from the starting line?
An: Do you think that academic studies in art can provide a significant advantage in an illustrator's career?
Quang: Early in my career, when I was struggling to get my ideas down on paper, I looked at the former art students, and I remember envying their technique when mixing colors. They have such a special, delicate way of doing it.
I clearly felt that I lacked technical knowledge. And you had to pass the entrance exam to the Beaux-Arts to reach them.
I feel like, apart from the general knowledge I had, like light, or shadow, the knowledge accurately used by the art students is so original, so extraordinary.
With time, and experience in the trade, I filled in these gaps as a self-taught artist. Little by little, I felt less like an impostor.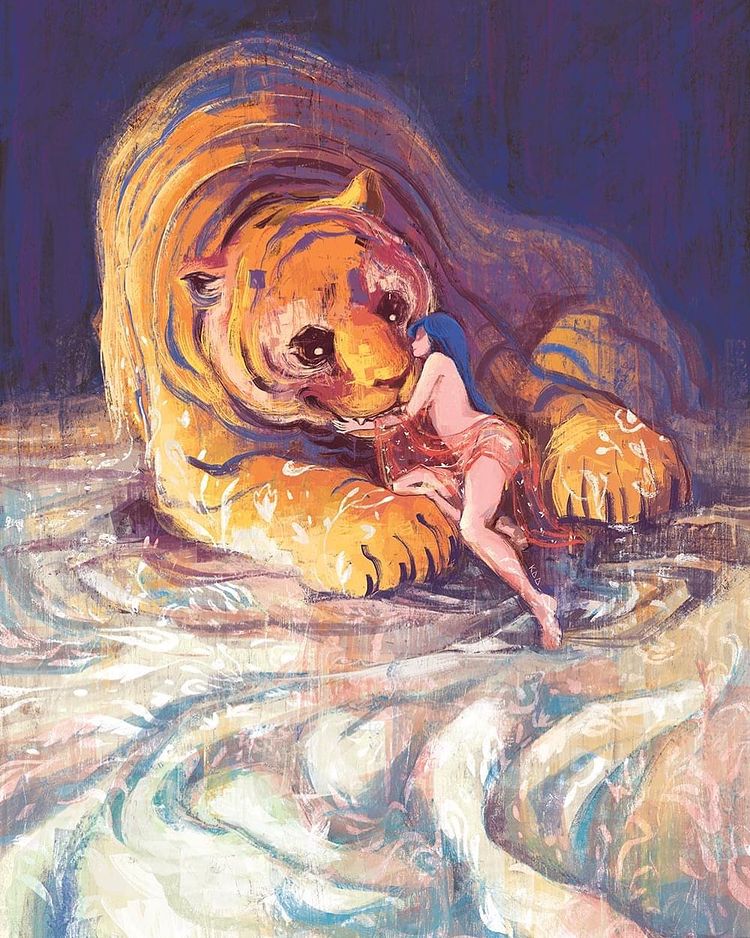 Liên: Since I didn't go to college for art, I took several individual courses to catch up. I took Alfredo Santos's illustrated book writing course Room To Read, Lai N Nguyen's Color Theory course, Phan Vu Linh's oil painting course… I jumped at every opportunity to learn.
We don't need a degree to work in this industry. But having a methodical and suitable environment from the age of 18, 19 helps us to refine our mentality and mind.
Quang: In college, we often hang out with dozens of classmates, building a project together, right? It helps us grow among our peers.
Liên: Over time, I am very happy that I was able to build a group of friends in the same trade, to draw with. Thanks to these friends, every time I'm in a slump, there is always someone to pick me up.
Anyway, university studies in art or not? If you have the opportunity and the resources, choose studies!
Are you considering going to art school?
An: No, I currently have no plans to go back to school.
Right now, I am taking several courses and workshops in the region. I'm grateful to live at a time when there are many online courses platforms available, such as Skillshares, Domestika, Artesane…
Quang: We have also learned a lot from these sources. As we have not had any academic training, we look for every opportunity to enrich our knowledge.
Liên: Exactly. I don't think this trade is elitist, the important thing is to stay in it for a long time. I know people who are so talented and brilliant, but after a while they just couldn't keep up. Keeping the endurance is more important than breaking through early on. So take it slow.
Quang: We choose this job to draw forever, so take your time. It's OK to take it one step at a time, every day, no need to run faster than the others.
"We work only for those compliments, you know?"
An: What makes you most proud in your job?
Liên: We love to illustrate children's books. So every time we receive the text of a book, we feel happy. We are happy from the moment we discover the content, and even during the research phase for references, or when we think about how to transform the content into pictures. We also enjoy writing our own stories and then illustrating them.
These are the tasks that make us most comfortable, and happy… Well, truthfully, it's hard work, but it's still the thing we love doing most in the world.
We've seen such beautiful, moving books, and we just hope we can create illustrated books that are as impactful. We're gradually moving along this path, we've managed to publish our first books, and then the next one is a little bit better than the previous one, and so on…
An: Is My first journey the book that makes you most proud?
Liên: Actually, there are many books that we illustrate for other authors' texts that make us proud as well.
The books for which we are full authors (note: both authors and illustrators) are the ones that give us the most mental load and stress during development. But when we draw for other authors, and we enjoy the story… Once the book is published, the readers enjoy it, the author enjoys it, the book sells well, we are fully happy.
An: Did you get any feedback, from readers or customers, that really moved you?
Kaa: Of course yes, there still are some today. We are grateful for all the compliments.
Liên: Every time we send an illustration to the client, and they send us back a compliment, like "Oh my gosh, this is so beautiful!", or "You make me so happy!" That's enough to fill our day. We only work for those compliments, you know?
Every once in a while, we also take a look at Amazon or Goodreads. And if we see another positive feedback, we are also very happy.
Quang: By the way, give more positive feedbacks to the illustrators, okay? Pay a compliment to the artists before you send the criticism, okay? *laugh*
Liên: Actually, our customers are all very nice, they usually start with compliments, before suggesting modifications.
As time passes, we have more pleasant customers. What has surprised us the most is that the clients who have the biggest budget and pay us the most are the ones who respect us the most. In the past, we used to work with small clients, with small budgets, and we were stuck in some of the most awful and funny situations that illustrators often talk about in our community.
The illustrators' virtuous circle
An: In the book Big Magic, Elizabeth Gilbert introduced the concept of sh*t sandwich: when people look at jobs they don't know, especially creative jobs, they only see what we choose to display, including the great things, the perks, the dreamy, glamorous side.
The hidden side, the risks, the constraints are only known by those who are in the trade. If we can't accept to swallow the sh*t sandwich, there is no sense in pursuing a creative career.
Is there a sh*t sandwich you have to store at home, with no way to throw it away?
Quang: I've seen that among our peers in the same field as well.
Sometimes I look at another illustrator's work, and I'm fascinated by how perfect it is. Then, I become convinced that this artist's work is automatically beautiful, shimmering. And I wonder how he can draw so easily… while I struggle every time I want to put my imagination on paper. I find that my illustrations are never accurate enough, or beautiful enough, or good enough.
But, actually, the artist who created such beautiful images gets also stuck a lot. During the drawing process, he was also exhausted, racking his head to find the right angle, the right composition, the right character.
In the end, you'll see, sometimes you'll get it right on the first try, but in most cases, in your eyes, your illustrations won't be good enough, not harmonious enough, not sparkling enough… But if you think it's the best result you can provide at that moment, then post it, send it! Compliments and constructive criticism will give you an objective outlook.
It's a virtuous circle: we try, we struggle, we fight, once the illustration is finished, we send, we post, and we feel relieved, happy, proud. Then we repeat the process again and again. But overall, it's still fun.
An: In other words, this loop is constraining, but it's mostly fun, isn't it?
Liên: It's mostly traumatic, the fun is totally secondary! *laugh*
Quang: But now, if I'm offered to leave everything for another job, to face other problems, I'd rather be stuck with this sh*t sandwich
Liên: If I won the lottery right now, so much money that would allow me to stop working for the rest of my life, I just think that money would just allow me to draw more comfortably, I would be able to create what I want, to draw what I want. But I wouldn't stop drawing.
The threat coming from technological evolution?
What if AI stole illustrators' work tomorrow?
An: Nowadays, there are many templates, or applications where you only need to make a few clicks to get a great artwork, from a photo.
Recently, an American won first prize in the Colorado State Fair art competition with a piece of art made entirely with artificial intelligence (AI) software.
Do you think these technological developments pose a threat to our trade as illustrators?
Quang: I don't pay much attention to these things. In the illustrated book business, that issue hasn't happened yet.
I don't consider what AI creates art, and I don't think it will be able to replace artists. I will pay attention to it the day publishers decide to publish AI-illustrated books instead of human-illustrated books.
Kaa: Actually, we are lucky, very lucky, during our whole illustrator's career.
So if the evolutions of our time get rid of our trade, we will not fight. Indignation will not solve the problem. At worst, we will do another job, while continuing to draw for ourselves.
… However, switching to a career in accounting or in the railway will not work either. Most probably, we'll just go… selling books. But let's not worry about that right now.
The "real" issues
An: Is there anything you're worried about at this moment?
Liên + Quang, at the same time: DEADLINES!
Liên: Right now I'm doing the interview with you while drawing!
This book has been ordered for a while now. But we couldn't go ahead with it as planned, for family reasons. Besides, we are full authors on this book, so it's very stressful. I'm internally thinking up about the kind of criticism the readers will have about the book, and I'm even imagining how to face them…
Quang: I wonder if I will be able to finalize the illustrations in time, if the illustrations are beautiful enough, if the readers will like them, will the book get much criticism?
Liên: Quang is even concerned about the world economic situation, because he is afraid that illustrated books will stop being published.
Quang: We are just kidding. Actually, we're not too worried. *laugh*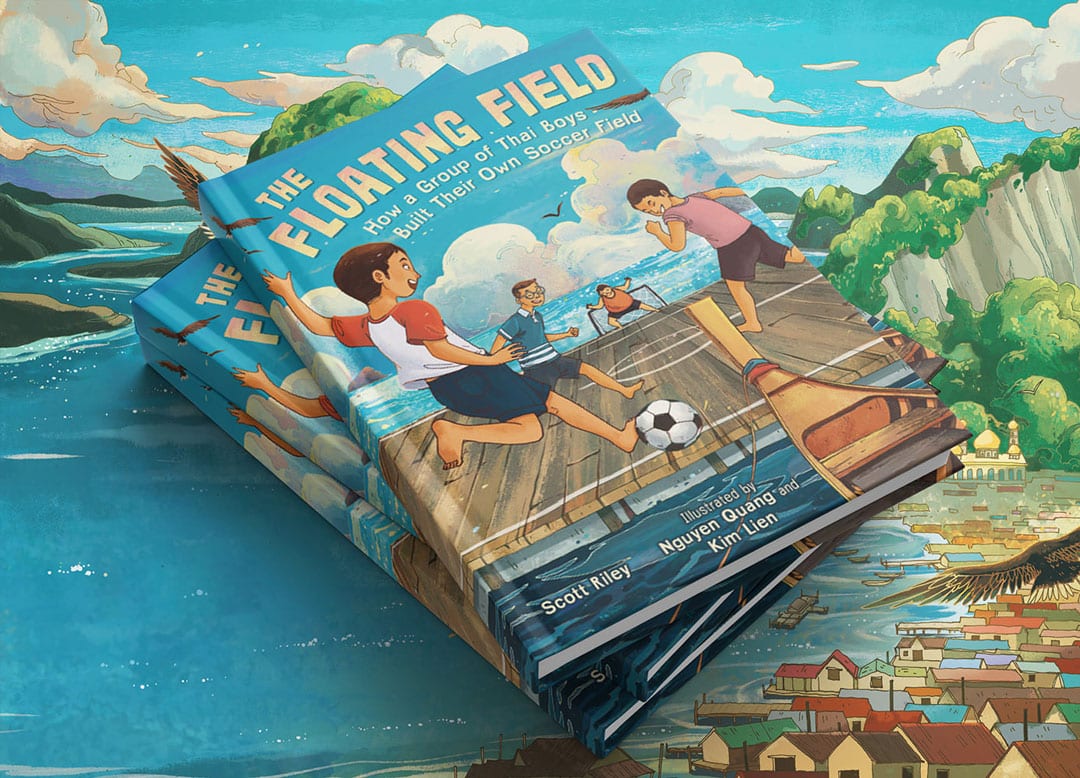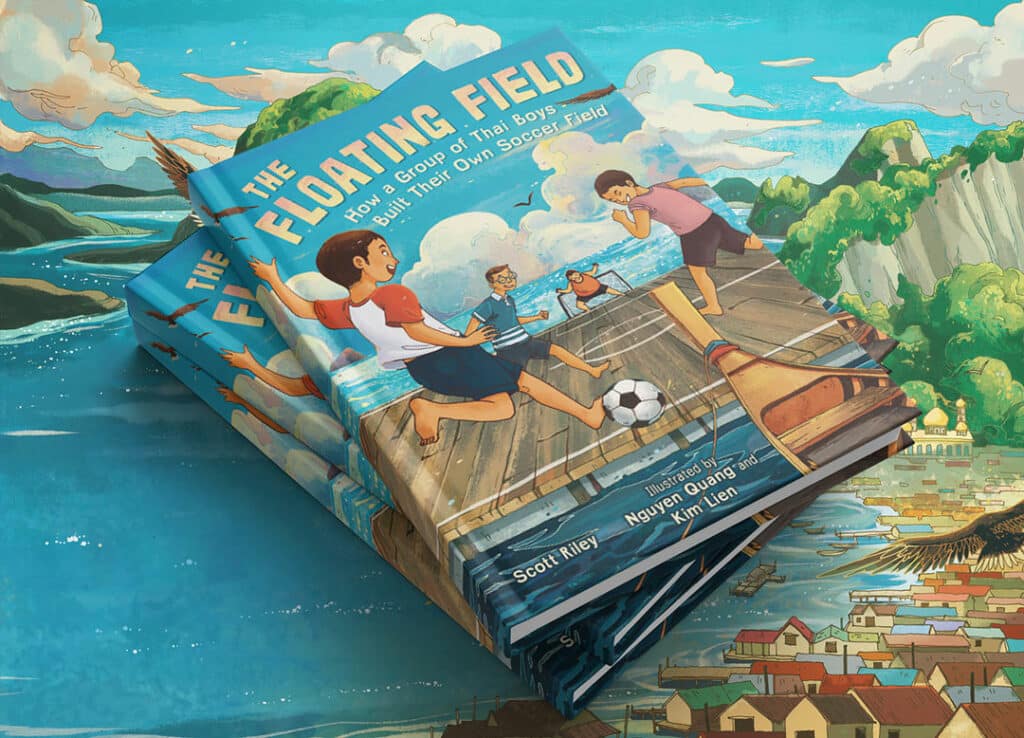 The treasure shared with the newbie
We invest all the money we make in books
An: Do you have any suggestions, tips, books, podcasts, websites or any other trustworthy sources to learn more about the trade for those who dream of becoming an illustrator?
Liên: Our main source is books. We invest all the money we earn in books. Sometimes the international shipping costs are over twice as much as the price of the book.
At that moment, Liên and Quang get up from their desk and take their smartphone to give me a virtual tour of their library.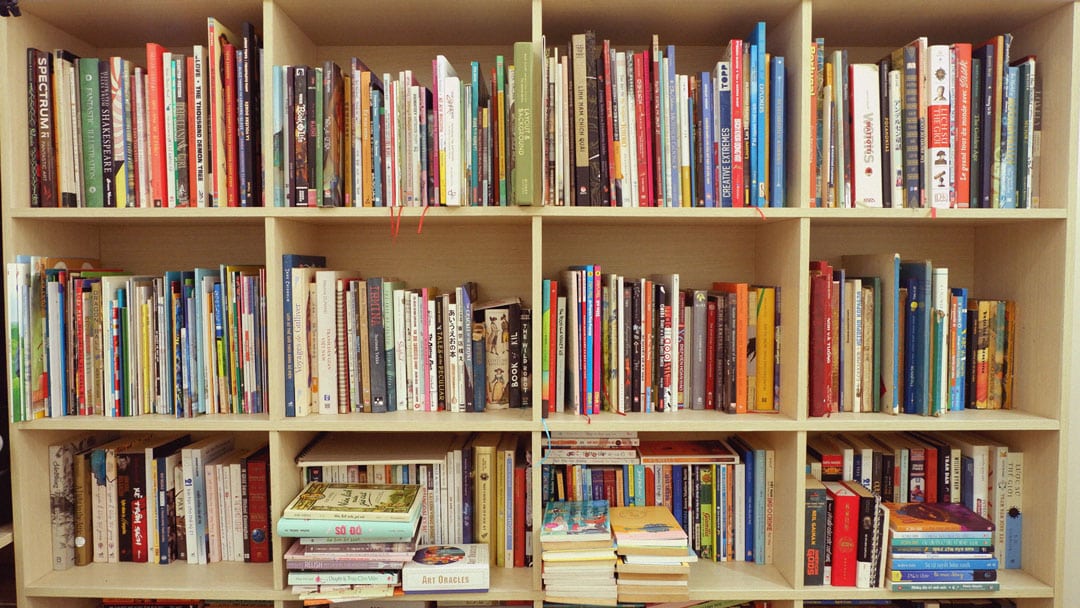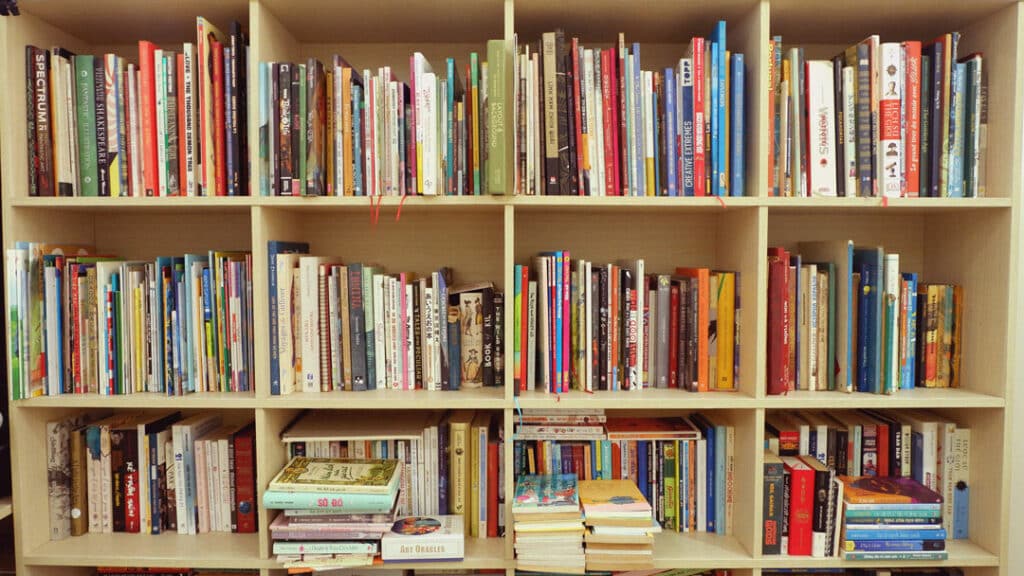 Kaa: Here are the books we used as study manuals:
Kaa: Also, if you like an author, don't hesitate to get their books to analyze:
Quang: In Vietnam, you will find gold mines among second hand books. We bought the book Illustrated tales from Shakespeare for only 50.000 VND (note: about 2 dollars).
Make the most of all available sources to learn!
Kaa: Let's talk about courses… Most courses we have taken in the past are no longer available.
Quang took the masterclass on book and screen writing by Neil Gaiman.
We have friends who have established workshops centers, such as Nguyễn Minh Đức's Art Workout, Phước Quản's Art Soup, or Lê Thư's illustration classes. We have not attended these classes, but since they are our friends, we know that they are qualified, and their workshops are reliable.
Quang: As for the quotation, at the beginning, we consulted our colleagues for the jobs in Vietnam.
For foreign contracts, especially for books, it is the publisher who makes an offer, we can negotiate before deciding to accept or not. Usually, the difference between the negotiated price and the proposed price is about 500 to 600 USD.
Liên: If you have any doubts, or are confused, check out Yuko Shimizu's Facebook page. She is a teacher and gives relevant advice to illustrators.
But, if you want to start an illustration career, just go for it.
I'm not the kind of person who plans meticulously and checks the progress at every step. As soon as I see an opportunity, an activity that I might like, I test it. As soon as I see a contest that seems amusing, I participate. I'm constantly testing, and it doesn't matter if I fail. Actually, I have failed many, many times.
Don't try to be completely prepared, because that will never be enough. No matter how prepared you are, you won't be able to be as accomplished as those who started before you. But you have to test to see if it's right for you. If it does, keep going! If not, try something else!
Yesterday, we were "young illustrators following their dream", today, we are "the relatives of a young illustrator"
Advice for illustrators
An: You have already shared a lot of experiences and advice. But if now you have to give a single piece of advice for those who want to become an illustrator, what would it be ?
Quang: Just one thing? Take care of your health. Take care of yourselves!
Liên: Do sports, do yoga, do back pain care and prevention! It is super important!
Quang: Anyway, we plan to do this job for the long term, we will have our whole life to draw, so we just have to be a better version of our selves than we were yesterday, no need to move forward faster than others.
Liên: We learn throughout our career. It's a job like any other, it's not that complicated.
In the role of "relatives"
An: If you have a word for the family of young illustrators, in case their relatives are against their life choice, what would you say?
Kaa: We don't have the super power to change their family's minds. Besides, if we managed to convince their family, and then their child failed, their families would blame us to death! *laughs*
Our families have been feeling normal about our job for a while now. And you, your family is finally less averse?
An: I realized a funny thing: when I expressed my desire to become an illustrator, but I hadn't started yet, my family was radically against it. But once I got to the point of no return, no one kept going against me, as if there were no problem.
Quang: I think most families are like that.
Liên: Today, I am in the role of "the family", with my niece. She is 16 years old, she wants to become a manga and anime illustrator.
I am now wondering if it is a good idea to let her follow this path… Will she be able to endure all that we had to go through in this job? And just like that, I immediately want to calm her down. I feel like recommanding her to study for another, more stable job, just in case, and to wait before taking the leap…
I worry too much about her. But if she experiments for 2-3 years, and she feels good about it, she sees opportunities, she can handle the workload, then I might be more relieved.
Actually, it is not necessary to fight against our family's opinion, so that our relatives accept our choice. Little by little, if you can prove that you can make a living out of it, everything will be fine. It's just a job, it's not an illegal activity!
Our only dream is to keep going the current path
An: Do you have dreams for the future? Or a project you've been wanting to do for a long time?
Kaa: We have plenty of them! We would like to finish illustrating this current book . Then, we would like to draw another book… Then another one…
After The first journey, two more books were ordered, of which we will be complete authors. We have finished 2/3 of the first book of this diptych.
Then we would like to draw more individual illustrations, tell more stories, create a big collection.
We would also like to try to do mini-comics, to gather more experience. Recently, we've convinced our client to let us create an illustrated book with traditional techniques, and the client's partially agreed.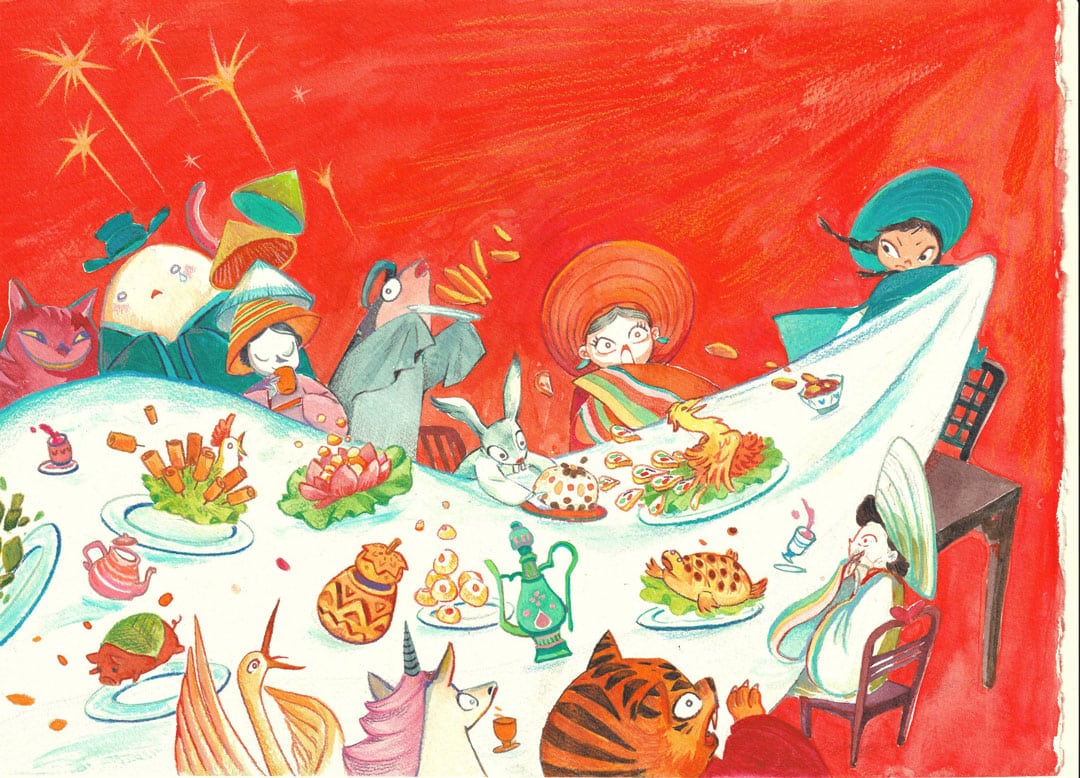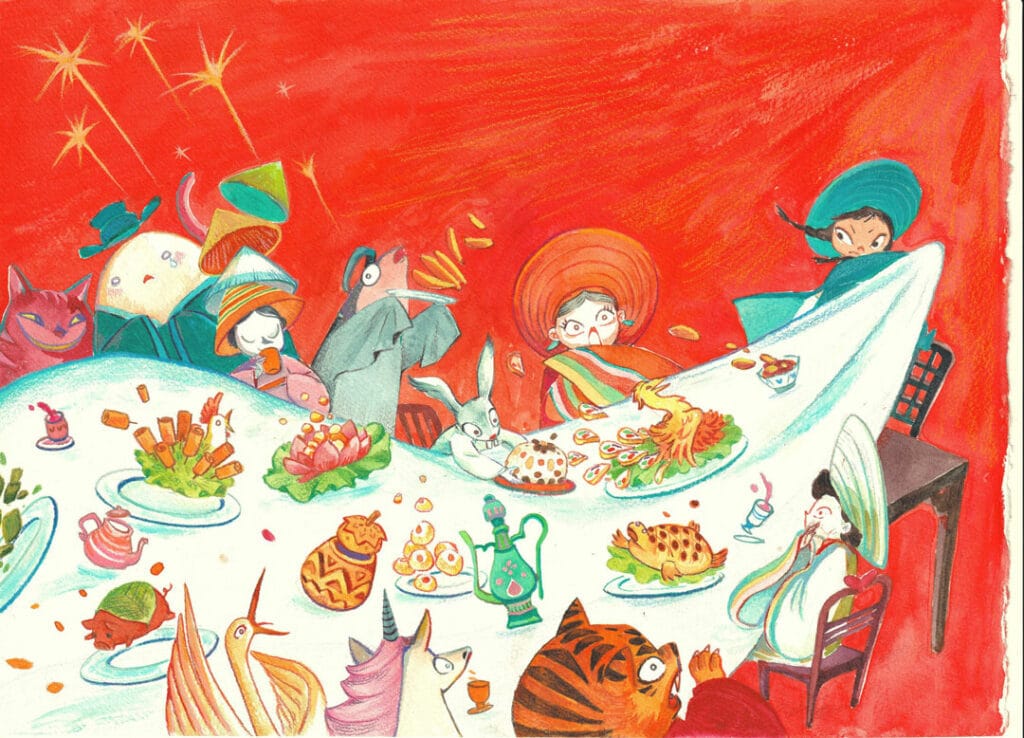 It will be nice if we have an exhibition with all our illustrations from the books…
Quang: In short, all our dreams revolve around drawings.
Liên: Actually, we don't even have to dream about it. It's just a job, if you feel like doing it, do it. It's not like you have to study for four to five years to get the right to practice, like your old job in the railway, or ten years straight to become a doctor. Becoming a mother, becoming an astronaut, or becoming a doctor, now that's worth dreaming about.
An: So, I wish you success in fighting all your deadlines!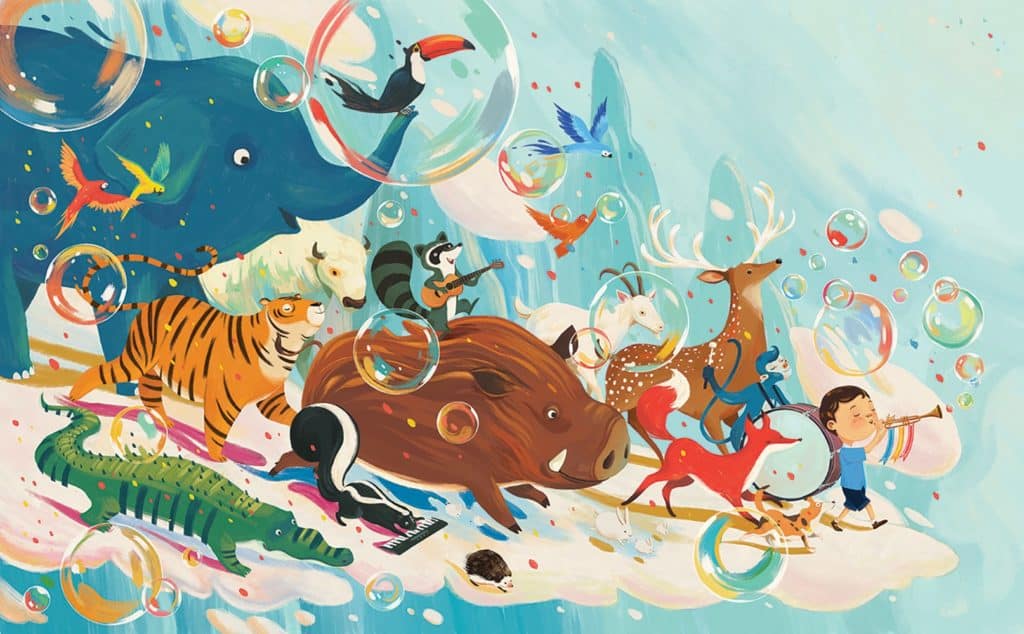 You can follow Liên and Quang on Kaa's Facebook page, on Instagram kaaillustration, or on the website kaaillustration.com
Giveaway
For this first special series in the blog, I would like to offer a package with 5 artworks, from each guest of this special series, to one lucky person among you.
If you want to participate in the giveaway, here is the link: https://forms.gle/Zr1zUMSQZsxfgPKk7
I'm also planning 1 surprise gift for each participant of the giveaway!
Take care of your health & Keep creating!
Tu Ha An
*Please consult the information on Copyright & Intellectual Property before copying or mentioning the content and images of tuhaan.com